Save the Children warns of Pakistan flood child deaths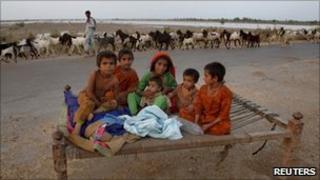 Many acutely malnourished children in Pakistan's flood-affected areas could die if major food shortages continue, Save the Children has warned.
The charity also says governments and international donors need to act quickly to increase the amount of aid they are giving.
And it says the number of children who are malnourished in the flood areas is growing.
The warning comes following an appeal by the UN for £1.3bn.
UN and aid officials say that eight million people remain reliant on aid handouts to survive, six weeks after monsoon rains caused flooding across large areas of the country.
The widespread flooding has affected some 20 million people in an area larger than England.
Save the Children said it had already given aid to 740,000 people, but is calling for an additional £15m to further its work in the country.
The UN says more than 12,000 children have become acutely malnourished since the floods began.
Assistance plea
The spokesman for Save the Children in Pakistan, Mohammed Qazilbash, says the situation will only get worse unless aid is dramatically increased, and that many children will start to die if they do not receive assistance quickly.
He said: "The number of malnourished and critically sick children will rise dramatically in October and November as the food crisis takes its toll.
"These children have weakened immune systems because of the shortage of food, making them very vulnerable to disease.
"Pakistan's children urgently need more support to survive and rebuild their lives.
"We need money for clinics, to rebuild schools and to help people begin to farm again and provide food for their families. This is not something that is going to go away. We have to act now before it is too late."
UN Secretary General Ban Ki-Moon and Pakistani Foreign Minister Shah Mahmood Qureshi will be holding a ministerial meeting in New York on Sunday to discuss reconstruction and funding for the country.