British village life 'dying out' after pub closures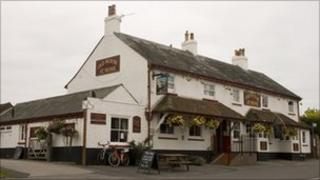 Village life in Britain is "dying out" because rural pubs are closing at a record rate, a report from the National Housing Federation has said.
The Federation said pubs were one of the "cornerstones of traditional village life".
The report's co-authors, the British Beer and Pub Association (BBPA), said 893 pubs closed last year following the recession and increased taxes.
The government said it would give rural communities powers to save local pubs.
The federation, which represents England's housing associations, said key services were disappearing "at an alarming rate" and that affordable local housing was the key to saving traditional village life.
It also said that about 400 village shops closed in 2008, while in England, between 1997 and 2008, rural schools shut down at the rate of one a month.
And it said the closures reflected a declining demand for services in villages where local families had been priced out of the area by wealthy commuters, pensioners and second-home owners.
Another factor was that there were too few new homes, it added.
'Focal point'
Federation chief executive David Orr said: "The cornerstones of traditional village life, such as the local school, the shop and the pub, are disappearing from the rural landscape at an alarming rate.
"Rural towns and villages need to have mixed, working communities, otherwise there is a very real danger our countryside will become little more than a theme park for weekenders.
"Unless we build more affordable homes for local people, they will continue to be priced out of rural areas and services they support will vanish with them."
BBPA chief executive Brigid Simmonds said: "Along with local shops, post offices and schools, village pubs are pivotal to the life of local communities across Britain.
"Pubs act as much more than a social venue. They are a focal point for sports teams, local groups and meetings. In addition they provide a range of community services like post offices and shops.
"We need a climate that allows these community businesses to thrive."
Local Government Minister Bob Neill, said that as well as making rural communities able to preserve their pubs, the new government had already axed cider tax and was stopping below-cost sales of alcohol by supermarkets.