Pakistan 'needs more flood aid'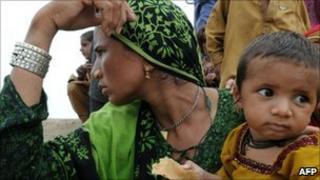 International donors must "step up to the plate" once again to help flood-hit Pakistan, UK charity Oxfam has said.
Oxfam's call comes as the United Nations (UN) prepares to launch a new appeal for Pakistan, seeking to treble the $460m (£295m) raised so far.
Jane Cockling, Oxfam humanitarian director, said the crisis in the country was "far from over yet".
The UK aid appeal by the Disasters Emergency Committee (DEC) has so far raised more than £54m.
Oxfam says that almost four million affected people in Pakistan have yet to receive food aid.
"If the people that need help do not receive it, then disease and hunger could spiral," said Ms Cockling.
"These people have lost so much, but they still could lose more. Even today, people are drinking dirty and contaminated water straight out of the Indus river.
"Soon we will need to help them go home and restart their lives."
The UN says more than 70% of Pakistan's flood-affected population lack access to safe drinking water, while more than 80% did not have access to clean, functioning toilets.