Call for deposit charge on drinks bottles to cut litter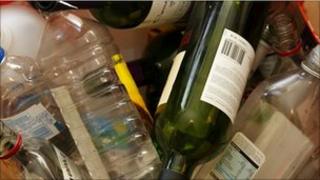 Charging a deposit for plastic and glass drinks bottles would drastically reduce litter, campaigners have said.
Consumers would be charged a small fee when they buy a bottle, which would be refunded when it is returned.
Research for the Campaign to Protect Rural England suggests a 15p deposit for bottles up to half a litre and 30p for others would mean 90% coming back.
The CPRE said according to its own study such a scheme would reduce costs to the public sector by £160m per year.
A deposit was routinely charged for drinks bottles decades ago.
BBC rural affairs correspondent Jeremy Cooke says the CPRE now believes it is time to revisit the idea.
'Informed light'
The deposit would be repayable when the container is dropped off at an authorised site.
The CPRE believes such a scheme would help protect the landscape by reducing litter and aid the government in meeting its target of moving towards a "zero waste" economy by increasing recycling rates.
Campaigners said the saving to the public purse would be equivalent to £7 per household.
CPRE president Bill Bryson said: "These findings throw rational and informed light on an issue that is nonsensically contentious in the UK.
"What sensible nation would not want to capture and recycle its precious and finite resources? What discerning people would not want to enjoy a litter-free environment?
"We have published this research to reignite the debate, so that an effective mechanism which delivers environmental and social benefits in many other countries can be given its proper consideration in the UK."