Newspaper review: Pope visit stirs mixed feelings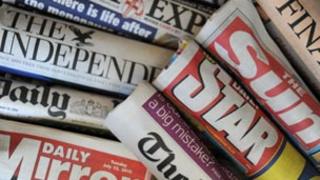 Pope Benedict XVI has not arrived yet, but his UK visit is already stirring up strong feelings.
More than 50 public figures have signed a letter to the Guardian saying the Pope should not be given a state visit because of the Vatican's record on birth control, gay rights and abortion.
They include broadcaster Stephen Fry and author Philip Pullman.
The Independent asks whether Pope Benedict will apologise to British survivors of sexual abuse by priests.
Demonstration pleas
The Daily Mirror says "millions of Britons... are looking forward enthusiastically" to seeing the Pope. It urges demonstrators to be dignified.
Writing in the Daily Express, Ann Widdecombe says the coming four days will test the country's tolerance.
She says if events are disrupted by protests "that will show us all the real face of supposed liberalism".
The Sun has a "Top of the Popes" pull-out, profiling what it says are the 10 greatest and 10 worst pontiffs.
Singer's sentence
As George Michael starts his eight-week jail sentence for drug-driving, the headline writers are inspired by the singer's hit songs.
The Sun plumps for Lock me up before you go go.
The Daily Express says the judge was asserting something important - that "nobody, no matter how rich or powerful, can be above the law".
But the Daily Star says it is a light sentence that gives out the wrong message to motorists.
'Bone idle'
The head of Merseyside Fire and Rescue Service has been speaking about public sector cuts, suggesting the way to save money is to get rid of lazy workers.
The Daily Mail and the Daily Telegraph report that Tony McGuirk told a seminar: "We've got some bone idle people in the public sector."
He reduced his number of staff from more than 1,500 to 850 and insists they now provide "a far better service".
Mr McGuirk believes the same approach could work in the NHS.