Prison ship records from 19th Century published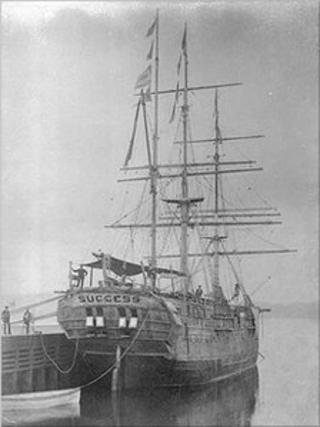 A picture of life on board Britain's 19th Century prison ships has emerged with the publication online of details of some of the 200,000 inmates.
The records outline the disease-ridden conditions on the "prison hulks", created to ease overcrowding elsewhere.
The prisoners included eight-year-old Francis Creed, who was jailed for seven years on HMS Bellerophon for stealing three shillings worth of copper.
The records, held by National Archives, are published online at Ancestry.co.uk.
The Prison Hulk Registers and Letter Books 1802-1849 include character reports written by the "gaoler".
Creed served his term alongside murderers, thieves and bigamists after being convicted in Middlesex on 25 June, 1823.
Another inmate of the era was 84-year-old William Davies, who was sentenced to seven years for stealing sheep.
'Unique solution'
Samuel Phillips, a 16-year-old labourer jailed for life for burglary, and unable to read or write, was described as a "doubtful character" who had been to prison before.
Thomas Bones was said to be "a bold, daring fellow, not fit to be at large in this country".
Another convict, George Boardman, was "neglected by his parents" and "connected with bad company".
Each of the ships held between 200 and 300 inmates.
Mortality rates were high, with about one in three prisoners dying on board, as there was no way to separate the diseased from the healthy in the cramped conditions.
Dan Jones, international content director of Ancestry.co.uk, said: "The records provide a fascinating insight into the personalities of many major, and minor, criminals of the Victorian age, as well as documenting a rather unique solution to prison overcrowding.
"The records will be of use to family and social historians, and anyone with an interest in the UK penal system.
"They detail the rather bleak conditions that those who fell foul of the law would have found themselves in."