Jason Manford criticises BBC for Help for Heroes edit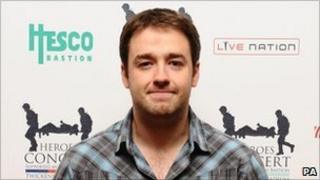 Jason Manford, a presenter on the BBC's The One Show, has criticised the corporation after it edited out a joke he made during a charity concert.
Mr Manford was one of the presenters at a concert to raise money for the armed forces charity, Help for Heroes, broadcast on BBC One on Sunday.
He complained on Twitter that his joke about the government and the Armed Forces had been cut from the broadcast.
The BBC said most of the appearances had been edited in some way.
Manford described the edited excerpt, saying: "I said it was disgusting that soldiers get sent to war by a gov but when they arrive home injured they have to rely on charity.
"Then went into gag about if they didn't sign up, it'd be conscription & there'd be likes of me out there crying in my tent every night."
In Manford's original message via Twitter he had complained about a lack of free speech.
When challenged by fellow Twitter users about remaining impartial, he said: "I'm a presenter in a magazine show, not a news show or a journalistic show, I'm a comedian at an event with an opinion."
He later apologised on the same website for swearing, but said "the rest of my tweets [messages] still stand".
A BBC spokeswoman said: "The Heroes Concert, which transmitted on BBC One in primetime, was a five-hour event that we had to edit into a two-hour programme. We therefore couldn't include every act in its entirety."
Only the broadcast of Peter Kay and Robbie Williams' song with Gary Barlow were not subject to cuts, she said.