Police superintendents warn over cuts in spending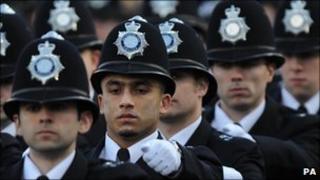 Senior police officers want protection from the worst of the public spending cuts so forces can deal with any rise in social and industrial tension.
Police Superintendents' Association president Ch Supt Derek Barnett will outline this call at the body's annual conference in Cheshire on Wednesday.
He will say a "strong and confident" police force will be needed in the face of government austerity measures.
The government said the police would not be exempt from spending cuts.
Home Secretary Theresa May will be in the audience at the conference.
Mr Barnett is set to say: "In an environment of cuts across the wider public sector, we face a period where disaffection, social and industrial tensions may well rise.
"We will require a strong, confident, properly trained and equipped police service, one in which morale is high and one that believes it is valued by the government and public."
In his speech, Mr Barnett is expected to talk about the inevitability of widespread disorder on the streets but he insists the comments do not refer to the impact of spending cuts.
The Police Federation, which represents rank-and-file officers, last week warned that crime and anti-social behaviour were likely to increase if the police had to reduce officer numbers as a result of spending cuts.
The federation forecast that as many as 40,000 posts might have to go across England and Wales over the next four years.
Police strength is currently near record levels of 144,000 officers.
Mr Barnett says it would be police officers who would be called on to restore order on the streets, not community support officers, special constables, police staff, journalists or politicians.
"It is a fundamental duty of government to ensure the security of the nation," he will say.
Superintendents will warn that if numbers are cut they face being asked to do more with less.
But Mr Barnett will argue that police should embrace opportunities for reform, including slashing bureaucracy and waste, and a shake-up of the historic model of 43 separate forces.
Police minister Nick Herbert said the police would not be exempt from spending cuts.
"We don't know the outcome of the spending review yet but we will continue to make sure that we have well-resourced police forces in this country.
"They will though have to make savings like other public services. And there are costs that can be reduced while protecting the front line."
The conference will also debate the proposal for police commissioners for each force in England and Wales and discuss the role of social media in fighting crime.