Charity urges reform of spent convictions system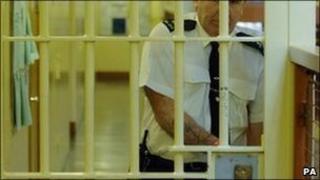 The period of time in which convictions become "spent" needs to be shortened so ex-offenders can rebuild their lives more easily, campaigners say.
Charity Nacro says the Rehabilitation of Offenders Act 1974 is no longer working as intended.
The act gives people the right not to disclose adult offences to employers after a specified period of time but does not apply to sensitive jobs.
The government is considering reform and said there would be a consultation.
Nacro says sentences have become harsher and more people are therefore having to wait longer before their offences are spent.
Its Change the Record report setting out the proposals is being presented to MPs.
As part of the campaign, Nacro is also calling for a reform of the current system of Criminal Record Bureau checks which it says has "spread its net so widely that the principle allowing a criminal record to be spent has been almost entirely lost".
It adds the Rehabilitation of Offenders Act is "out of tune" with the coalition government's initiatives to get people off benefits and back to work and its plans to create a more equal society.
It says the proposals follow similar recommendations in a review of the act published under the Labour government in 2002 but which were not put into effect.
'Valuable skills'
Nacro chief executive Paul McDowell said: "Around a quarter of the adult population has a criminal record.
"Outdated legislation and unlawful practices are preventing people from moving on with their lives and finding work.
"Research shows that getting reformed offenders into work can reduce re-offending by up to a half.
"Updating the legislation therefore benefits not only ex-offenders and employers, who gain valuable skills, but also the wider community."
The campaign is being backed by former Conservative cabinet minister Jonathan Aitken, who was jailed for perjury more than a decade ago and now works with offenders.
He said the rehabilitation periods under the act are "too onerous".
Mr Aitken told BBC Radio 4's Today programme: "The principle of rehabilitating offenders has been part of our law for the best part of 40 years. The trouble is it just hasn't been upgraded to keep pace with sentence inflation, nor has it been changed to deal with the new pressure which is excessive criminal bureau checking."
Under the 1974 act, adult offenders do not have to disclose fines after five years; prison sentences of six months or less after seven years, and terms of two-and-a-half years or shorter after 10 years. Convictions of longer than two-and-a-half years are never spent.
Nacro is proposing an end to the current two-and-a-half year term limit but is recommending that life sentences should always be disclosed.
Nacro wants to see offences resulting in fines not having to be disclosed after one year; prison sentences of under four years not having to be disclosed after two years, and terms of four years or more spent after four years.
Spent convictions need to be disclosed in applications for jobs involving children and vulnerable adults, for certain posts in the health, pharmacy and financial services sectors, and those connected to law enforcement and private security work.
A Ministry of Justice spokesman said: "The coalition government has made clear its intention to bring the criminal records regime back to common sense levels and we will make an announcement in the near future.
"The government is undertaking a full assessment of sentencing and rehabilitation policies, which will be subject to full public consultation, and the Rehabilitation of Offenders Act 1974 will be considered as part of this."