Andy Burnham urges Labour leadership rules changes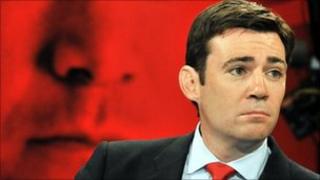 Labour leadership candidate Andy Burnham has called for a review of the party's leadership election rules.
Mr Burnham said the current contest was too heavily influenced by big donors and helped the leadership favourites.
He told a hustings at the TUC Congress, the last of the election, that members had too little say in the process and candidates had spent too much money.
David Miliband, regarded as the frontrunner, has raised more than the other candidates - at least £450,000.
Figures published earlier this month showed that was the amount raised by his campaign so far.
The outcome of the leadership contest - in which MPs, MEPs, party members and members of unions and other affiliated bodies are entitled to vote - will be announced on 25 September.
'Undue influence'
Mr Burnham said the rules of the election - in which five candidates are standing - did not create an "even contest" and MPs had much more sway over the final result than party members.
"I don't see why we should have a situation where the elite or establishment can have an undue influence over the election or the process. I don't think the playing field is as even as it can be."
While insisting he was not criticising his rivals or trade unions - which are the party's largest donors -Mr Burnham said he was "not wild" about the amount of money spent by the candidates.
"It does not give a fair chance to those who aren't able to raise that kind of money. What it does is say if you are a very large donor, you can wield undue influence. I personally don't think that is right."
Fellow candidates Ed Balls and Ed Miliband said rules for campaign spending during internal Labour elections, and those for parliamentary elections, needed to be looked at to ensure they were fair and money was spent wisely.
David Miliband insisted none of his donors had had any influence on his policies.
He said the new Labour leader needed to be able to raise money as the party had been outspent three to one by the Conservatives at the last general election and was too reliant on union funding.
"You need a leader who can go out and raise the £10 and the £10,000 because otherwise we are talking with one hand tied behind our back," he said.
Mr Burnham said he believed MPs should not have their votes made public, arguing it encourages them to vote for who they think is going to win rather than who they actually want to back.
But Ed Miliband said MPs should be "accountable" for the decisions they made.