Newspapers attack the UK's top tax official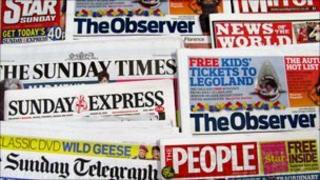 Many of the papers have their sights on the UK's top tax boss and his reaction to the unexpected tax bills.
The Mail on Sunday says Dave Hartnett, the Permanent Secretary for tax at HM Revenue and Customs, is "fast becoming Britain's most hated tax official".
"How does he manage to sleep at night?" asks the Sunday Express.
The People describes his belated apology as a "humiliating climbdown", while the Sunday Mirror accuses him of not being fit for the job.
Get out of jail card
With two weeks to go until the Labour leadership contest result, the Sunday Times reports a new poll suggests the winner will be Ed Miliband.
It says a YouGov survey puts David Miliband ahead on first preference votes, but his brother first when second preference votes are considered.
The Sunday Telegraph reports fewer than one in every 100 criminals sent to jail is given the longest possible sentence.
Of 10,000 burglars sentenced in a year, none got the maximum term, it says.
Murdoch academy
The Telegraph also reports concern in the intelligence community that MI6 computer expert Gareth Williams might have been killed by a foreign power.
The lack of clues could suggest a professional assassination, it says.
Meanwhile the Observer reports News International is planning to sponsor an academy school in east London.
The paper believes the idea will alarm Rupert Murdoch's critics, who fear his media empire already wields formidable influence over politics and society.
Dr Who?
The Times says the Education Secretary Michael Gove wants to change health and safety laws that apply to schools, with a "Dangerous Book for Boys" culture.
The paper thinks "a bit more danger... would be a good thing".
Finally, the Mail reveals that Prince Edward was asked to appear in an episode of Doctor Who in 1988.
The programme's script editor tells the paper "reading between the lines, it appears the prince wanted to do it, but was effectively blocked" by Buckingham Palace.