Lord Bingham, 76, dies of cancer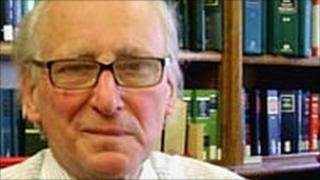 Lord Bingham, who held three of the top legal posts in the country and was seen by many as the pre-eminent judge of his generation, has died at the age of 76.
As senior law lord he ruled that the detention of foreign terror suspects without charge was a breach of their human rights.
After his retirement in 2008 he argued that Britain broke international law by invading Iraq in 2003.
Thomas Henry Bingham died of cancer at the family home in Wales on Saturday.
A commercial lawyer, he made his name as the chairman of inquiries into sanction-busting in Rhodesia by oil companies and the collapse of the bank BCCI.
He served as Master of the Rolls, the head of the civil judiciary, from 1992 until 1996 when he was appointed Lord Chief Justice of England and Wales and became Baron Bingham of Cornhill.
From 2000 to 2008, he was Senior Law Lord but retired before the Supreme Court began to function in October last year.
Professor Robert McCorquodale, director of the British Institute of International and Comparative Law, said: "He will be remembered as an exceptional man with a brilliant mind."
Writing in the Guardian last month, Shami Chakrabarti, director of Liberty, described him as "perhaps the greatest world jurist of our times".
"He is an inspiration to anyone - legal professional or lay person - who holds dear their hard-won rights and freedoms, and believes that human rights are universal and non-negotiable," she wrote.