Fake tax email scam warning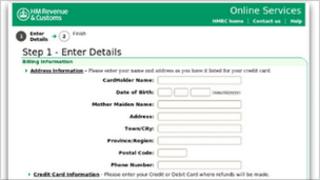 Taxpayers are being targeted in an email scam hoping to take advantage of the recent announcement that as many as six million people may have paid the wrong tax.
The fake emails encourage people to fill out forms which may allow fraudsters access to their credit card or bank accounts.
A spam email expert, from the security firm Sophos, says there has been a surge in the number of fake emails adapted in reaction to the news.
Spam traps
HM Revenue & Customs made its announcement a week ago. It is trying to recover £2bn that was underpaid in the past two tax years, and to repay £1.8bn that was overpaid.
Fake emails that try to trick people into revealing details about their bank accounts are very common. Known as phishing, Sophos' expert, Graham Cluley, says the scam was quickly adapted once HMRC made its announcement.
"On the same day that we heard HMRC (would) be contacting people and sending out these letters we began to see the emails arriving in our spam traps. Literally within a couple of hours we were seeing these message arriving," he said.
One such email picked by Sophos has "You Have An HMRC Refund" in the subject line.
It begins "Dear Applicant" and continues, in part: "Following an upgrade of our computer systems and review of our records we have investigated your payments and latest tax returns over the past years, our calculations show you have made over payments of 317.66GBP".
Criticism
It then invites the recipient to complete an online application which uses HMRC branding and requests details of a credit card as well as passwords.
HMRC's handling of the announcement has come in for criticism. This week it sent out the first batch of letters to those affected by the miscalculations.
Lib Dem Treasury Spokesperson Lord Oakescott said the tax authorities' letter should have included a "very clear health warning" about the potential for email scams.
In a statement, HMRC said that it only ever contacted customers who were due a refund by post.
"We never use emails, telephone calls or external companies in these circumstances. We strongly urge anyone receiving such an email to send it to us for investigation before deleting it," the statement said.
However, Lord Oakescott said HMRC was sending out conflicting messages.
"They are pressurising ordinary tax payers to fill their tax returns online. They make it very difficult to do otherwise and suddenly now they turn round and say don't trust anything you get through the computer."