Change strike ballot rules, think tank urges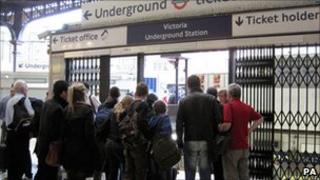 Ballot rules should be changed so it is tougher for unions to call strike action, a think tank has said.
The Policy Exchange suggests 40% of trade union members in a workforce should be required to vote for a strike for it to be valid.
The law currently states that a simple majority of voting union members is sufficient.
Business group the CBI welcomed the report, but the TUC claimed it was "a crude attack on workplace rights".
The think tank also called for employers to be allowed to use agency staff to cover strike action, and for the period of protection from dismissal during a strike to be reduced from 12 weeks to eight weeks.
'Politically motivated'
Information about the length of any action should be spelled out in ballot papers and the period of notice before a strike should be increased, it added.
Neil O'Brien, Policy Exchange's policy director, said: "We have seen a number of high profile strikes in recent times.
"There is speculation we're heading into a new era of industrial unrest.
"I'm worried you get a small number of politically motivated people who are not just organising strikes for their own members - there is an agenda."
He continued: "If you get people not taking part in the ballot you get a small number of politically motivated people pushing something which is incredibly damaging.
"London was crippled by the Tube strike."
Ed Holmes, co-author of the report, added that taxpayer funding of unions was "extensive, and often hidden" and called for "greater transparency".
Welcoming the report, John Cridland, deputy director-general of the CBI, said union reform was long overdue.
Many employers were working with unions and other staff representatives to bring about improvements in the workplace, he argued.
Mr Cridland said: "With public sector cuts imminent, the bar needs to be raised for industrial action. This would help ensure that ordinary people do not have to endure the kind of disruption we saw during this week's London Underground strike."
But Sarah Veale, the TUC's head of equalities and employment rights, said: "What these right-wing policy wonks in their nostalgia for the divisive years of Mrs Thatcher don't understand is that unions do not just benefit their members, but employers and wider society too.
'Profoundly undemocratic'
"If they got out a bit more they would find that unions give employees a voice, deal with problems before they turn into disputes or end up in tribunals, and allow change to be negotiated."
Ms Veale added: "The 40% proposal would be profoundly undemocratic because you would be saying people who abstained voted no.
"If people abstain they are not voting no - they are often not there or they don't feel like voting."
Bob Crow, general secretary of the Rail Maritime and Transport union, said it was not a coincidence that the "concerted attack on workers' rights" came as government "prepared to unleash unprecedented cuts".
"They want to clamp down on workplace rights because they know full well that the unions will be the main point of resistance to the government's austerity agenda," he said.