Wayne and Coleen Rooney ask media to respect privacy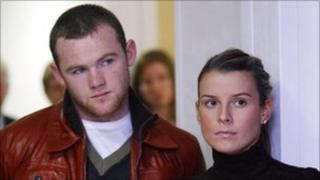 England striker Wayne Rooney and his wife Coleen have asked the media to respect their privacy amid allegations about his private life.
"The last six days have been extremely painful for us and for our families," the couple said in a statement.
They added that it was impossible for them "to attempt to resolve any issues in the current media glare".
Earlier, Manchester United manager Sir Alex Ferguson refused to discuss his player's off-field problems.
The Rooneys' statement, released six days after the first allegations were published by the News of the World, added that they were facing a "backdrop of so many inaccurate and intrusive stories".
It concluded: "We would therefore ask that the media now respects our privacy and the right of our family to discuss these matters in private."
Wayne Rooney has played for Manchester United since 2004, when he signed from Everton, the team he supported as a boy, for £20m.
He is due to return with Manchester United to face Everton in the Premier League on Saturday.
He is also a regular in the England national team and scored as England beat Switzerland 3-1 in a Euro 2012 qualifying match on Tuesday - his first international goal in more than a year.
'No discussion'
Coleen Rooney is a TV presenter and columnist.
The couple, who are both 24, met as school children in Liverpool.
They have been married for two years and have a 10-month old son, Kai.
Speaking at his pre-match media conference on Friday, Sir Alex said: "Let's put it to bed straightaway. I am not discussing any of my players' personal lives."
Everton's manager, David Moyes, was also unwilling to discuss his former player's personal life at his media conference.
He told reporters: "I think if you are a good football journalist you don't ask those kind of questions.
"If you are a gossip journalist you ask me those questions. I am interested in talking about the game and that's what I'll do."
However, Everton defender Phil Jagielka predicted earlier in the week that Everton supporters would give their former player some "stick".
"It should be amusing," he said.