Koran burning row grabs headlines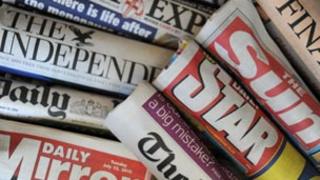 The row surrounding a US pastor who planned to burn copies of the Koran is widely reported in the papers.
An image of the pastor, with a headline referring to the "burning issue", is on the Guardian's front page.
The Times reports that he opted to call off what it refers to as the "Koran bonfire" after the world had been "put on terror alert".
Meanwhile, a Daily Mirror headline carries the warning: "Burning the Koran will inflame world."
Commons hearing
"Robbed by the banks we own," is the Daily Mail's front page headline.
Despite interest rates being held at a 300 year low, the paper says, banks are fleecing their cash-strapped customers by charging record overdraft rates.
Several papers report that a sacked social work boss has been asked to give expert advice on child safety to MPs.
The Sun says Sharon Shoesmith is one of five experts asked to give evidence to the Commons Education Committee in an inquiry on safeguarding children.
Fictional CV
The Daily Express's lead claims nearly £1m has spent sending hundreds of police officers on a training course to prepare for a huge earthquake.
It says earthquakes have only killed 11 people in Britain since records began.
The Independent tells how a New Zealand worker lost his job of five years after it emerged that his impressive CV was mostly a work of fiction.
Stephen Wilce had been New Zealand's Chief Defence Scientist, with top-level security clearance.
'Soap's fieriest landlady'
The Queen Vic pub burned down in Eastenders and Barbara Windsor - who the Times says is "arguable the nation's best-loved soap star" will bow out of the programme after 16 years.
Windsor will appear in her final scenes as Peggy Mitchell later.
The Sun pays tribute to the barmaid, played by the former Carry On star, calling her "soap's fieriest landlady".
It says: "How better for Babs to bow out of Eastenders than in a blaze of glory as the Queen Vic burns down?"