Empty shops highlight north-south 'divide', study finds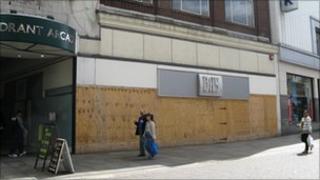 The number of shops closing in Britain is slowing but a north-south divide has emerged, a study has found.
Retail analysts the Local Data Company found one in seven outlets is currently empty.
Town centre vacancy rates rose from just over 12% at the end of 2009, to 13% at the end of June 2010.
It said big centres in London and the South East were "holding up well, while further north vacancy rates are much higher".
The Local Data Company (LDC) visited more than 700 towns and cities between January and June 2010 for its survey.
Each retail outlet's occupancy status was recorded as being occupied, vacant or demolished.
Ten of the 63 large centres examined across Britain, including Bath, Guildford, central London, Cardiff and Liverpool, showed an improvement over the last six months.
But among the 400 medium-sized centres, just 73 had improved. All but one of these - Grantham, Lincolnshire - were in the south.
Vacancy rates were found to be as low as 3.5% in Hythe, near Southampton, and Upminster, in Essex.
Empty shops were more commonplace further north. Some 30% of retail outlets were vacant in Altrincham, Cheshire, with Blackpool and Dewsbury, in West Yorkshire, not far behind.
"Many large and medium-sized centres in the Midlands and North are yet to see a material improvement in vacancy," said the LDC.
Its business development director, Matthew Hopkinson, said the report "shows the reality of a slowed but still rising increase in shop vacancy rates across the country".
He went on: "Whilst some centres, particularly central London and the South East are showing stabilisation or improvement, others in the provinces are not. The impact of the VAT increase, public sector cuts and fierce competition within the 'multi channel' retail environment make it increasingly hard for shops on our high streets."
The British Retail Consortium said many town centre problems had more fundamental causes than economic slowdown and they would not disappear just because a recovery was under way.