Aerobatic pilot became 'somehow impaired' during stunt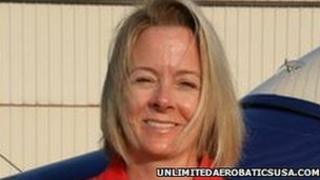 An aerobatic pilot killed while taking part in an air show might have become "somehow impaired" as she carried out a manoeuvre, an accident report has said.
American Vicki Cruse, 41, died when her aircraft crashed at the World Aerobatic Championship at the Silverstone racing circuit last year.
The Air Accidents Investigation Branch said the manoeuvre was "not an extreme one for such an experienced... pilot".
Rudder control problems were also listed among contributory factors.
Ms Cruse was performing a manoeuvre known as a snap roll from which her plane did not recover.
Rudder pedal extensions used by Ms Cruse could have contributed to a rudder control restriction, the Air Accidents Investigation Branch (AAIB) said.
The report went on: "Pilot incapacitation was also considered a possible contributory factor."
'Pilot impaired'
Investigators said Ms Cruse's manoeuvre did not involve prolonged exposure to very high gravitational forces.
There was no evidence of drugs or alcohol in her body, the AAIB added.
The report concluded the possibility remained that "the pilot's ability to recognise or respond to the situation had somehow become impaired and this must be considered as a possible contributory factor".
Her plane, a single-seater Zivko Edge 540, crashed on to grass in the south-west corner of the Northamptonshire circuit on Saturday, 22 August 2009.
It was a training day and Ms Cruse was performing in front of judges and other competitors. There were no spectators at the circuit and the event went ahead as planned.
A former member of the US national aerobatics squad, Ms Cruse, from California, was president of the International Aerobatic Club and was performing as part of the Unlimited Aerobatics USA team.
The World Aerobatic Championship website says the 10-day event is held every two years and brings together "the best aerobatic pilots in the world".