Ian Tomlinson post-mortem examination report withheld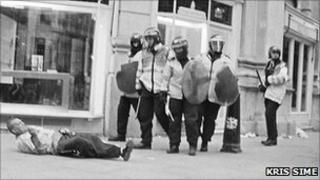 A post-mortem examination report into the death of a man at the G20 protests last year has been withheld from authorities, it has emerged.
It was carried out by a forensic pathologist on behalf of the policeman who pushed Ian Tomlinson.
The report was withheld from the Crown Prosecution Service, Independent Police Complaints Commission and the coroner.
City of London coroner Paul Matthews said he had "doubts" about it being withheld and would pursue the matter.
The officer's lawyers cited legal privilege in withholding it.
Mr Tomlinson died after he was pushed at the protests in April last year.
He had been on his way home from work and was not involved in the demonstrations.
Pc Simon Harwood, a member of Scotland Yard's territorial support group, was filmed striking the 47-year-old newspaper seller with his baton and pushing him to the ground in the City of London.
No criminal proceedings were brought over Mr Tomlinson's death because experts could not agree on how Mr Tomlinson had died.
In July, Director of Public Prosecutions Keir Starmer said there was a "sharp disagreement between the medical experts" about the cause of death.
Pathologist Freddy Patel, who has since been suspended from the medical register over three other cases, concluded that Mr Tomlinson died of natural causes.
However, two other experts said he died from internal bleeding after falling to the ground.
'Defence' material
Another pathologist, Ben Swift, jointly conducted the third post-mortem examination on behalf of Pc Harwood.
On Tuesday, coroner Paul Matthews revealed that the officer's lawyers had refused to disclose Dr Swift's findings, citing legal privilege.
Mr Matthews said he had "doubts" about that and would "pursue" it.
The Independent Police Complaints Commission (IPCC), which investigated the case, and the Crown Prosecution Service (CPS), which decided not to bring charges, have now confirmed that they have not seen Dr Swift's report either.
The CPS said the report was "defence" material and it was not entitled to see it.
'Impaired'
Last week, Dr Patel was suspended for three months by the General Medical Council.
It found that his fitness to practise was "impaired" because of the way he dealt with three other cases.
He had been already barred from carrying out Home Office forensic pathology work.
On Tuesday, in light of Dr Patel's suspension, Mr Matthews defended his decision to use Dr Patel to carry out the initial post-mortem examination, saying he was unaware at the time of any proceedings against him.
Mr Matthews said he selected Dr Patel because he regularly carried out autopsies at the mortuary where Mr Tomlinson's body had been taken and was on the Home Office list of accredited forensic pathologists.
He also defended his refusal to allow investigators from the Independent Police Complaints Commission to attend the first post-mortem examination.
Mr Matthews said this was because at the time he had "no material" suggesting Mr Tomlinson had been in contact with police before he collapsed and died.