Murder sentence changes supported by top prosecutor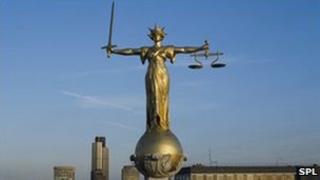 Calls for different degrees of murder charges have received the backing of the director of public prosecutions.
Keir Starmer told the BBC he supports calls for the introduction of first-degree and second-degree murder charges in England and Wales, along similar lines to the US system.
Critics of the current mandatory life sentence say it can be hard for juries to ascribe degrees of culpability.
The government says it is considering recommendations.
A change, which would be similar to the approach in the US, could mean that England and Wales would have a system in which first-degree murder with intent to kill carried a life sentence.
Second-degree murder, with intent to cause grievous bodily harm, would carry a discretionary life sentence, as would manslaughter.
Mr Starmer, who expressed his views to BBC Radio 4's Today programme, is the second successive holder of the post to support calls for such changes.
His predecessor, Sir Ken MacDonald, says it would be particularly helpful in cases involving what is known as joint enterprise, often used to deal with gang-related murder.
'Firm and fair'
Next year sees what could be the largest joint enterprise case yet, involving 20 defendants charged with murder.
Sir Ken said: "It is not just a question of people who are not guilty being convicted, there is a risk that people who are guilty will be acquitted of murder.
"My sense is that a lot of juries who instinctively kick against the idea that someone should be convicted of murder with a mandatory life sentence, if they intend less than killing.
"It should be fair, it should be firm and it should be explicable. I don't think that we are presently achieving those qualities in our homicide law."
He continued: "Many of us think that that's an aspect of the law which needs reforming, that we should have degrees of murder, rather in the way they do in the US.
"First degree would be killing with the intention to kill, second degree would be killing with intention to do grievous bodily harm.
"I think if you had those sorts of categories, it would be much easier to look at a joint enterprise case and describe particular roles and particular degrees of culpability to individual defendants, rather than sweeping up perhaps large numbers of people who in some cases might have been fairly peripheral to the enterprise," he said.
Former commissioner of the Metropolitan Police, Lord Blair, said a change in the law was "extremely sensible".
He said: "While murder must remain a very specific crime, with a very serious penalty attached to it, there are, and I think everybody can see it, different kinds of murder and different levels of culpability in those murders and I think the Americans have a very sensible idea that there are degrees of murder."
But the former Lord Chancellor, Lord Falconer, said he was not convinced of the need for a change.
"The message that the law is sending out is that we are very willing to see people convicted if they are a part of gang violence - and that violence ends in somebody's death.
"Is it unfair? Well, what you've got to decide is not 'does the system lead to people being wrongly convicted?' I think the real question is "do you want a law is as draconian as our law is, which says juries can convict even if you are quite a peripheral member of the gang which killed?"
"And I think broadly the view of reasonable people is that you probably do need a quite draconian law in that respect."
In 2004, the Law Commission, which advises the government on legal reforms, made wide-ranging recommendations for changes to legislation.
A year later, it said the homicide law was a "rickety structure set upon shaky foundations", with some of the rules being in place since the 17th century.
In a further review, published in 2006, the commission suggested a three-tier system for homicide cases, depending on their seriousness.
These were first-degree murder, carrying a mandatory life sentence; second-degree murder, with a life term at the discretion of the judge plus sentence guidelines; and manslaughter, also with a maximum penalty of life.
However, the Labour government decided not pursue a complete overhaul of the system.
Instead, it introduced new rules on provocation and some technical adjustments to the law on diminished responsibility, complicity and infanticide.
Meanwhile, the Metropolitan Police has launched its first Facebook campaign, warning young people that they can be charged with joint enterprise if they get caught up in knife crime.
The video of a staged stabbing, entitled Who Killed Deon, aims to deliver the message that "you do not have to wield the weapon to be convicted of the murder".
A Ministry of Justice spokeswoman said: "The government is aware of the recommendations put forward in the Law Commission's report on murder, which we will consider."