Stansted Express posters banned for being misleading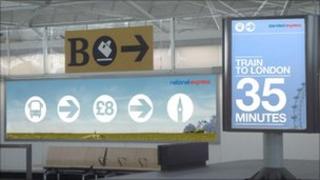 Posters advertising the Stansted Express have been banned by a watchdog for implying the train would reach central London in 35 minutes.
The posters, at Stansted Airport, used the text "Train to London 35 minutes" with images of the capital, partly to help those not fluent in English.
But the Advertising Standards Authority (ASA) noted that the journey to central London took 45 minutes.
It ruled that the advert was likely to mislead passengers.
The ASA also said the train would reach Tottenham Hale in 35 minutes, and that the images "strongly implied" the train would reach the city centre directly from the airport.
It added: "We understood that many travellers would not necessarily speak English and that the use of tourist landmarks was intended to communicate a simple message.
"However, we considered that the simplicity of the message could potentially confuse visitors about where in the city they would get to in 35 minutes."
Simple messages
One person had complained that the advert was misleading.
National Express, which runs the Stansted service, said international passengers arriving at the airport made up 58% of the train's business, many of whom did not speak or understand fluent English.
As a result, the company said it had used simple and concise messages to communicate that an express train service was available into London.
It said it had used an internationally recognisable train symbol to communicate the mode of transport to London, together with symbol indicating the journey time from the airport to Tottenham Hale.
From there, it said, passengers could take the Victoria line on the London Underground and travel to central London destinations.
National Express also said it did not believe the adverts made any reference to the train getting to central London in 35 minutes, adding that all trains from the airport continued on to Liverpool Street station, located in the heart of the capital.
A National Express East Anglia spokesman said: "The use of tourist landmarks was intended to communicate a simple message of train services to London but we note the ruling and apologise if it did cause any misunderstanding.
"We have already started to change the ads."