Papers consider Andy Coulson's future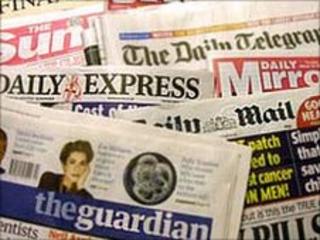 Downing Street communications director Andy Coulson is the focus of a number of stories about tabloid phone hacking allegations in Tuesday's papers.
The Independent says the former News of the World editor now faces a fresh parliamentary inquiry.
But the Daily Telegraph doubts he will face a new police investigation.
Philip Stevens, in the Financial Times believes Mr Coulson is now a political liability and tarnished David Cameron's pledge to lead with integrity.
Rooney backed
Allegations concerning the private life of England striker Wayne Rooney continue to be reported widely.
The Daily Mirror, Sun and Daily Star all lead with stories that are related to the Manchester United footballer on their front and back pages.
The Mirror and Star say he has received the backing of England Manager Fabio Capello to play against Switzerland in a Euro 2012 qualification game later.
Meanwhile, the Sun says he is yet to agree a new Manchester United deal.
Extradition review
The Daily Telegraph leads with a report that ministers could be given new powers to block the extradition of Britons wanted by courts overseas.
The paper says Home Secretary Theresa May is set to announce a review of existing agreements with the US and European nations.
The Daily Mail heralds the development as a breakthrough in its Affront to British Justice campaign.
It says the review of the extradition treaty with the US "long overdue".
Heavy going
For 10 months the Independent has been investigating the crime often referred to as "honour killing".
The paper devotes its front page and several inside pages to the details it uncovered, such as Robert Fisk's tale of "Hanan" - a Palestinian woman who was raped at her home in Jordan.
Meanwhile, the Daily Express reports on a man who is "too fat work" because it is feared "he might fall on someone".
The paper has a photograph of 30-stone Barry Fowers on its front page.