Fears over street light cut-backs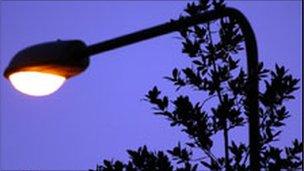 The growing number of councils across the UK that are switching off street lights has prompted criticism from MPs and road safety groups.
Some local authorities have turned off some lights at selected times and switched others off completely, in a bid to save money.
Commons Transport Select Committee chairwoman Louise Ellman said she feared safety was being compromised.
The UK's 7.5 million street lights cost about £500m each year to power.
Buckinghamshire County Council said it had turned off 1,600 of the 28,000 street lights around the county and was saving about £700,000 a year as a result.
Spokesman Keith Carpenter said: "I can assure people that we are carefully monitoring this trial. We have the intention of saving money but without compromising road safety."
Similar schemes have already started or are planned across the UK in areas including Swansea, Essex, Leicestershire, Devon and parts of Yorkshire.
In Somerset, the council said turning off 500 lights between 0030 and 0500 would save £18,500 a year and reduce carbon dioxide emissions by 122 tonnes a year.
It had already carried out a two-year trial of switching off lights on parts of the A370 and A371.
Councillors in Leicestershire have said a scheme which permanently switched off 60 street lights - and turned off 1,300 village lamps between midnight and 0530 - had saved money.
The county council plans to turn off 1,000 more lights over the next few months and has said it expects the move to save about £19,000 over the first 12 months.
Matthew Lugg, the council's director of environment and transport, said both road and personal safety was "paramount", and street lights were only switched off after consultation with police.
"Experience from other councils which have already switched off lights shows that neither accidents nor crime increase and, in some areas, anti-social behaviour can decrease, as it makes certain areas less attractive to hang around," he added.
Meanwhile in Essex, the council said it had turned off 18,000 of the 220,000 street lights, saving about £1.25m a year.
But Mrs Ellman said: "I am extremely concerned that financial pressures are leading to steps which can jeopardise people's lives and increase the number of injuries.
"We've made great progress in recent years in reducing the number of deaths and injuries on our roads. It would be tragic if by switching the lights off that progress was to be put back many years."
Tara Green, whose nine-year-old stepson was killed on an unlit rural road, told the BBC keeping street lights on was among measures that should remain in place to "keep the public safe".
Nigel Parry, of the Institution of Lighting Engineers, suggested there were other ways for councils to save money besides turning off street lights completely.
"We think the best thing that they can do is invest in new technology where they can talk to all the street lights centrally and dim them down to, say, 50% of their light output during the wee hours of the morning and still save 40-50% of their energy budget. Everybody wins that way," he said.
Related Internet Links
The BBC is not responsible for the content of external sites.