'Phone hack' coverage continues in papers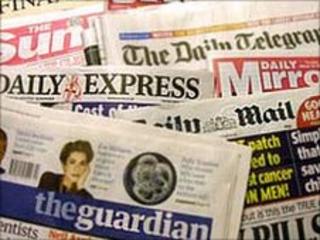 Claims that News of the World reporters hacked the phones of public figures continue to be reported widely in Monday's newspapers.
The Guardian and Independent lead with calls by MPs and other public figures for a fresh inquiry in the claims.
The Independent says the prime minister may be drawn into the matter.
And the Financial Times says the political battle lines over the affair have been drawn more deeply now the five Labour leadership candidates have intervened.
Temperament
There is widespread speculation about the marriage of England striker Wayne Rooney after allegations about his private life in the Sunday papers.
It is the lead story for the Daily Mirror, the Sun and the Daily Star.
And the Times says his place in the Euro 2012 qualifier against Switzerland on Tuesday is in doubt.
According to the Independent, Fabio Capello and his staff fear that the stories could affect Rooney's temperament on the pitch.
Bomb sites
The 70th anniversary of the start of the Blitz on Tuesday is marked in different ways.
The Daily Telegraph reproduces images from an amateur cine film giving a rare glimpse in colour of how Londoners lived through it.
The footage, taken by an air raid warden, was recently discovered after lying in an attic for nearly 70 years.
The Guardian publishes a map of London showing the location of all the sites where bombs fell on 7 September 1940.
The Times is the latest paper to declare its support for David Miliband in the Labour leadership election.
It believes he is the only candidate who commands the personal authority to be a credible prime minister.
And the Daily Mail reports that tensions among the 33 miners trapped underground in Chile are rising.
It says the men, who survived on two spoonfuls of tuna and half a glass of milk every two days, are now getting choosy about their food.