News of the World 'phone hacking' coverage continues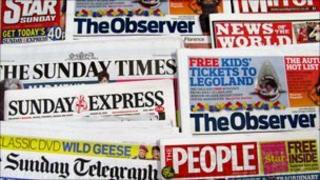 Further allegations that the News of the World hacked into mobile phones owned by public figures are reported by some of the Sunday paper's rivals.
The Observer says Scotland Yard has News International documents suggesting John Prescott was a target when he was deputy prime minister.
And the Independent on Sunday says Lord Mandelson was targeted.
The paper says his phone details were "among lists of private data seized" during a police investigation.
The News of the World makes fresh claims concerning Pakistan cricketers and an alleged betting scam.
It says police investigating the claims "have found between £10,000 and £15,000 in cash" in a player's hotel room.
And the Sunday Mirror reports that David and Victoria Beckham have put "Beckingham Palace" up for sale as they prepare to leave the UK permanently.
The paper says the couple now want to make Los Angeles the main base for their family.
The publication of Tony Blair's memoirs continue to generate stories and provoke debate in the papers.
The People reports that the former head of the Army, Gen Sir Mike Jackson, has "rubbished" claims by the former prime minister that he "stepped in to avert World War III".
And the Sunday Telegraph quotes ex-Army chief, Gen Sir Richard Dannatt, criticising Mr Blair and Gordon Brown.
In his serialised memoirs he says the pair failed the armed forces poorly.
The Sunday Express claims the BBC spends £50,000 each day on transport.
It reports that the corporation has "run up an £18.2m expenses bill for taxis and hire cars in the past year".
A motorist with 54 penalty points has been allowed to keep driving by magistrates, the Sunday Times.
And the Mail on Sunday reports on the "dramatic moment" when a contestant on the X Factor talent show struck her singing partner after they were criticised by judge Simon Cowell.