Cheaper coins 'will cost vending firms millions'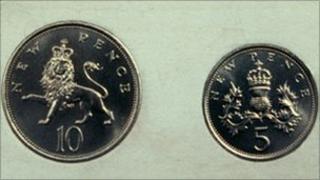 Vending machine companies have warned Treasury plans to introduce cheaper versions of 5p and 10p coins could cost the industry millions of pounds.
They say the steel coins, expected to be issued in January, may not be recognised by thousands of machines.
It is feared recalibrating them could cost the coin machine industry £100m as vending machines will need to recognise both the old and new coins.
The coins are currently made from the nickel and copper alloy cupro-nickel.
In a bid to save some £8m a year, the Treasury is considering a proposal to make the new coins from nickel-plated steel instead of the alloy, which has become more expensive as the price of copper has risen in recent years.
Jonathan Hilder, chief executive of the Automatic Vending Association, told the Daily Telegraph: "We've told the Treasury and the Royal Mint that this is going to be a disaster, but they haven't taken notice.
"It's meant to be a money-saving exercise, but this will cost the vending industry £42m and the coin machine industry as a whole possibly as much as £100m."
Modern vending machines are sophisticated, detecting each coin's shape, weight and magnetism to prevent fakes being used.
A spokesman for the Treasury said: "The proposal to make new 5p and 10p coins out of nickel-plated steel rather than a cupro-nickel alloy is one of many measures being considered by the government with a view to reducing the fiscal deficit."