Police chief criticises Raoul Moat hunt live TV footage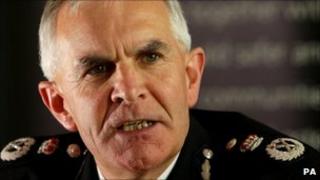 A senior police officer has said it was "not right" that TV broadcasters covered the last hours of gunman Raoul Moat on a live rolling basis.
On his blog, Greater Manchester Police Chief Constable Peter Fahy said the media had a "legitimate" interest.
But 24-hour news meant officers in charge often spent more than half their time dealing with the media.
Moat, 37, is thought to have shot himself in Northumberland on 10 July after a six-hour stand-off with police.
Former nightclub bouncer Moat went on the run after shooting his former girlfriend Sam Stobbart, killing her new partner Chris Brown and blinding unarmed Pc David Rathband.
He declared war on the police before dying near the River Coquet in Rothbury.
'Hero worship'
Writing in his blog, hosted by his force's website, the chief constable said: "It cannot be right... that the last hours of a man's life are broadcast on live television with members of his family looking on."
He said the advent of rolling 24-hour news has had a "profound effect" on policing, with commanding officers often spending more than half their time dealing with the media on high-profile cases.
"This includes monitoring and reacting to what the media are saying about the case and things like the statements being made by witnesses in front of the cameras," he said.
"It cannot be right that an officer commanding such an incident has to consider how it might look on television as if he/she was a film director."
Tributes to Moat were set up on social networking sites but Mr Fahy said the saturated coverage was far more of a problem than a Facebook page dedicated to Moat.
He said: "There have always been some who have hero-worshipped criminals whether it is Ned Kelly, Al Capone or Billy the Kid.
"There has always been a section of society who hate the police as the symbol of what they see as an unfair society or just because they get in the way of their criminal business.
"Facebook is just a new avenue for communicating this."