Papers consider phone hack claims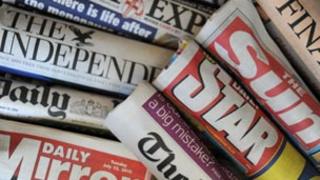 The story engulfing the prime minister's communication's chief grabs many of Saturday's headlines.
The Guardian says Andy Coulson has found himself in the direct line of fire amid allegations of phone hacking at the News of the World, despite consistently denying any involvement.
The Independent reports that ex-Labour cabinet minister Tessa Jowell says her phone was hacked 28 times.
It says the affair has raised questions about the prime minister's judgement.
The Daily Telegraph says primary schools will have to find an extra 350,000 places over the next four years because of a surge in the birth-rate.
The Times's lead story is about the death of weapons expert David Kelly.
The paper reports that a group of eminent doctors is going to the High Court to force the attorney general to open an inquest into his death.
They believe there is insufficient medical evidence to support the view that he took his own life, it says.
The Queen is "furious" that Tony Blair "betrayed her trust" by revealing details of their conversations, according to the Daily Express.
It says she is "dismayed" he broke "one of the cardinal rules of the government" in his memoirs.
And the Daily Mail reports that almost six million people are "embroiled" in "the biggest tax blunder for years".
More than a million people have to pay an average of £1,500 after underpaying through no fault of their own, it says.
Many front and back pages feature pictures of England players celebrating their 4-0 win over Bulgaria in the opening match of their European Championship qualification campaign.
The Sun, the Daily Star and Daily Express pay tribute to striker Jermain Defoe, who scored three goals.
And the Guardian carries a photograph of Defoe on its front page, with the headline: "England back on song."
But the Daily Mirror asks: "So why couldn't we do that at the World Cup?"