Sir Cyril Smith: Your memories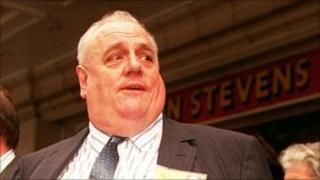 The veteran Liberal Democrat politician Sir Cyril Smith has died at the age of 82, the party has confirmed.
Sir Cyril represented the constituency of Rochdale as an MP, both for the Liberal Party and the Liberal Democrats, for 20 years.
BBC News website readers have been sending in their reaction to the news of his death.
Your comments
Sir Cyril was one of the best politicians this country had, he fought for his constituents regardless of party politics. I worked with Cyril as a young liberal many years ago and I am saddened to hear of his passing. Rochdale has lost one of its finest citizens. Ken Simpson, Bristol
I worked for his successor for a couple of years in the Rochdale office and met Sir Cyril frequently. He was a larger than life character who would tell it as it was. He used to bring all manner of letters up to the office for me to "just type up" for him. I have to say he had the worst handwriting of anyone I have ever met. God Bless him! Deb, Ballymena Co antrim
When I lived in Rochdale I was once in a queue in a chip shop behind the then Cyril Smith MP. He said to the lady behind the counter I'll have meat and potato pie, chips, peas and gravy three times....now what shall I get for my mother? He was a good MP for Rochdale though and sadly, none of those who have followed him in representing the town have had anywhere near the impact that he did in doing anything for the town. M Dickson, Bury
Cyril invited me to work in his office when he was Chief Whip. At the time, the party only had 12 MPs, but Cyril, with his forceful approach, ensured that the Liberal voice was heard well beyond the small number of parliamentarians. At a time when the Liberal MPs were all strongly individualistic, it took a strong man to ensure discipline, and Cyril did well in the role. He was extremely kind to those he liked and trusted, but was a formidable opponent of those with whom he disagreed - who were not left in ignorance of his views! Although, in terms of many social policies, he was to the right of the party, it owes him an immense debt, as do the people of Rochdale whom he represented so well for so long. Cyril was a doughty fighter. He will be very much missed. Alistair Webster, Rochdale
I knew Cyril very well during the 1970s when I worked as a parliamentary researcher with the Liberal Party from 1972 to 1977. I worked as a political assistant to Cyril from October 1974 until he became Chief Whip. He was always controversial but absolutely straightforward. He was also willing to debate issues with you and not stand on ceremony. I also met his family when I worked with him during the October 1974 general election - a hectic dash between different campaign stops interspersed with bags full of chunky meat pies which were supplied by his devoted mother every day! Simon Hebditch, London
I met Mr Smith by chance some thirty plus years ago as I queued behind him for a taxi outside a railway station I can no longer recall. He had a brolly in one hand and his bag in the other. I had no brolly. He insisted I join him under his brolly as the rain poured down - no mean feat to get under a brolly with Cyril Smith as I too am not slight in build. Nonetheless we managed it and I passed a very happy 10 minutes in the rain with a very entertaining and light-hearted gentleman. I never had reason to meet him again but in all the years since when in queues no-one has been so courteous to me or as entertaining. I mourn his passing as undoubtedly his larger than life frame did hold a very light and friendly heart. Edward Murphy, Rochester
My wife and I met Cyril on a Baltic cruise in 1996, on the QEII. I remember going into Stockholm with him one day and Cyril was still wearing his slippers! I think it was so hot he couldn't get his shoes on. So Cyril Smith. Roger Owen, Oswestry
Cyril was known to my colleagues and I at Birch Radio (now Roch Valley Radio) hospital broadcasting for many years where we were honoured to have him as our patron. His advice and straight forward approach to any question asked of him was admirable and we all learned a lot from 'Big Cyril'. He was big in stature and had a genuine love of the town and of the people of Rochdale. Cyril will be sadly missed by all of us at Roch Valley and by everyone who new him. John Groves, Rochdale