G20 pathologist suspended from medical register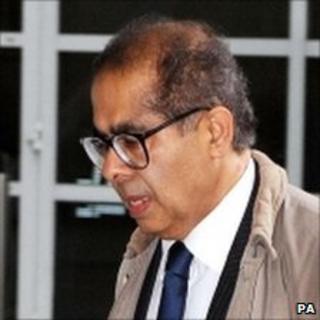 A pathologist at the centre of a row over the death of a man during the G20 protests has been suspended from the medical register for three months.
Freddy Patel was found guilty of misconduct by the General Medical Council over three other post-mortem examinations.
He carried out an examination of the body of Ian Tomlinson who died during G20 protests in April last year.
The Crown Prosecution Service said it was "considering the GMC's findings".
BBC crime reporter Ben Ando said CPS had previously stated the GMC's verdict would have "no bearing" on its decision not to charge anyone over Mr Tomlinson's death, so this announcement marked a change of position.
Mr Tomlinson's widow said she hoped she would "finally get some answers".
Handing down its suspension on Friday, the GMC's disciplinary panel said to Dr Patel: "You have offered no expression of regret in relation to those instances where the panel found shortcomings of misconduct and/or deficient professional performance."
But panel chairman Richard Davies added that there could be a "genuine public interest" in Dr Patel returning to practice and "giving dependable and worthwhile service for the future".
The suspension means he will be allowed to work only on non-suspicious deaths, and will be barred from working as an expert witness for the defence in suspicious death cases.
Dr Patel carried out the first post-mortem examination of Mr Tomlinson, and concluded that he died of natural causes linked to coronary artery disease.
But two other pathologists later separately concluded that Mr Tomlinson - who had been pushed by a police officer - died of internal bleeding as a result of blunt force trauma, in combination with cirrhosis of the liver.
The failure of the three pathologists to all agree led to the director of public prosecutions ruling that the policeman in question would not face any charges.
Mr Tomlinson's widow, Julia, spoke on behalf of the family after the GMC hearing.
She said: "Today's decision confirms that the GMC does not think Patel is fit to practise and has been an obstacle to the truth in a number of cases.
"It is heartbreaking to us that he was involved in Ian's case, and the real question for our family is why, with his track record, he was appointed in the first place."
She added: "We look ahead to the inquest now and hope that we will finally get some answers."
Further conditions
At the end of his suspension, Dr Patel will face a panel which will examine his fitness to practise.
He will be expected to fulfil a number of conditions before he is allowed to carry out any more post-mortem examinations, Mr Davies said.
These include improving his knowledge of the law on post-mortem examinations and identifying pathologists to whom he could refer cases for peer review.
Dr Patel has already been suspended from the Home Office register of forensic pathologists after questions were asked about the autopsy carried out on Mr Tomlinson's body.
Speaking on behalf of Dr Patel after the hearing, solicitor Simon Gomersall said: "It would be inappropriate for Dr Patel to comment at this stage, given the possibility that he may be asked to give evidence by the coroner at the inquest into Ian Tomlinson's death.
"Dr Patel also needs time to consider the GMC's decision with his advisers."