Papers discuss existence of God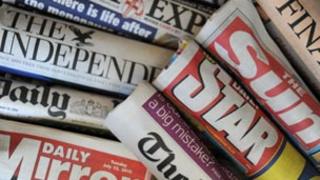 The question of the existence of God makes front page news for a second day.
The Times continues to cover Professor Stephen Hawking's conclusion that modern physics leaves no place for God in the creation of the universe.
The Archbishop of Canterbury tells the paper: "Physics on its own will not settle the question of why there is something - rather than nothing".
A Muslim spokesman in the Daily Express says scientists are arguing that the universe brought itself into existence.
Cancer concerns
The Guardian reports on pressure for a judicial inquiry into phone hacking by News of the World reporters.
Several hacking incidents took place when David Cameron's media adviser, Andy Coulson, was the paper's editor.
A drug taken by more than a million sufferers of osteoporosis could double their risk of developing cancer of the oesophagus, the Daily Telegraph says.
The paper points out that the finding contradicts a previous study a few weeks ago, which used the same data.
The Daily Mail continues to lead with the inquiry into an alleged betting scam involving Pakistan cricketers.
It says claims by the Pakistan High Commissioner that the players were the victims of a set-up will have a hollow ring in light of further revelations.
Teen mathematician
According to the Express, police forces have squandered more than £1.5m on promotional gimmicks such as fridge magnets, beer mats and stress balls.
The paper says the gifts have been condemned as "useless trinkets".
The Daily Mirror covers the story of Arran Fernandez, a maths genius from Surrey who is about to go to Cambridge.
What makes him a bit special though is that he is only 15, and he'll be the youngest Cambridge undergraduate for more than 200 years.
The Independent has a picture of someone else who is rather unique.
He is called Jamie Wilson, he is 23-years-old and is apparently the only man under 25 working as a nursery teacher in England.