UK Border Agency reveals top weird airport finds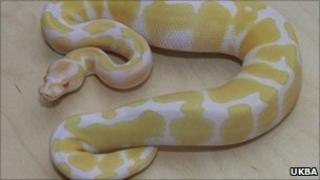 Dead pigeons and a pet boa constrictor are just some of the animals people have tried to smuggle into the UK, it has emerged.
The UK Border Agency (UKBA) has published a list of its strangest finds following the discovery of the birds at Gatwick Airport last month.
Officials believe the pigeons, which were found stuffed in a briefcase, were destined for restaurants in the UK.
Nobody has reclaimed the birds - or the pair of boots found with them.
The UKBA is still pondering the mysterious state of the birds - found by a baggage handler on 9 August.
They were in a briefcase, weighing 21kg (46lbs) and also containing a pair of boots, which had been left by a baggage carousel.
A Border Agency spokeswoman said: "It had no identifying tag or anything to indicate where it had come from.
"UKBA seized the pigeons on public health grounds as they could have come from a country that has bird flu."
Some of the birds had had their feathers removed and officials suspect this means they were being smuggled for use in restaurants.
The spokeswoman said the mysterious nature of the case also prompted staff to collate a list of their strangest animal finds during the past few years.
These include a passenger who was found at Heathrow Airport trying to smuggle his pet boa constrictor snake into the UK by wrapping it around his leg and another passenger who tried to smuggle 40 rare parrot eggs in a customised vest under his shirt.
The eggs were put into an incubator and the parrots that hatched were sent to zoos across the UK.
Border officials said another occasion which astonished them was when they found a striped animal skin in a man's luggage. They suspected it was an endangered species but further tests revealed it to be dog skin painted to look like tiger skin.
Other memorable cases include a parcel sent from Tanzania which was found to contain a puff adder and gaboon viper - both of which are highly venomous snakes.
A sniffer dog at Heathrow Airport discovered a man from Shanghai carrying 42 dried seahorses. He said these were to be used for medicinal purposes.
It is illegal to bring undeclared live animals, endangered species of plants and animals or goods made from them into the UK.
Animal smuggling is not just a problem for the UK. Last month, Thai airport staff found a live tiger cub hidden in a traveller's luggage.
And in July, officials at Mexico City International Airport stopped a nervous-looking passenger and found he had 18 tiny monkeys hidden under his clothing.