Tony Blair's memoirs debated by newspapers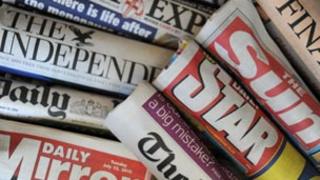 The press maintains its interest in Tony Blair's memoirs, which were published on Wednesday.
The Independent calls them "the political memoirs of the decade".
It says Mr Blair's book is the fastest selling autobiography ever, shifting hundreds of thousands of copies in its first 24 hours.
The Guardian says Mr Blair shook the Labour Party by backing the coalition government's economic strategy to cut the deficit and raise VAT.
Taliban targeted
The Daily Telegraph pictures Foreign Secretary William Hague with his now former aide Christopher Myers.
Mr Myers has resigned his position because of rumours about their relationship, dismissed by Mr Hague as "untrue and malicious".
The Daily Mail says it is "startled" by the intimate details disclosed about the foreign secretary's marriage.
It says his admission that they shared a room several times has led fellow Tories to question his judgement.
The Daily Express and Daily Star report that British special forces have been killing Taliban leaders in Afghanistan in droves in recent months.
Removing the enemy's commanders is said to have brought about a dramatic fall in the number of British casualties.
Travelling mint-strels
The Star says at least 65 Taliban leaders and bomb-makers have been killed since spring.
Those already killed by special forces soldiers are on an overall hit list of 240 names, the paper says.
Under a headline: "God did not create Universe", the Times says Professor Stephen Hawking has concluded modern physics leaves no place for a creator.
The Telegraph has the story of a pound shop in York which sells Polo mints produced in Indonesia, more than 7,000 miles away.
This is even though the mints are also made in a factory that is only one mile up the road.
The discount store says the arrangement offers better value for money.