Kilmarnock dog attack owner reported to fiscal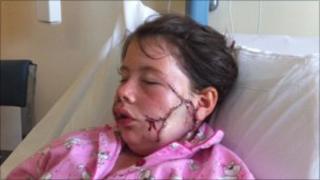 The owner of an Akita dog which attacked a girl in Kilmarnock leaving her with severe facial wounds has been reported to the procurator fiscal.
Toni Clannachan, 10, was bitten in the face by the animal while playing in a schoolfriend's garden on Tuesday.
She is said to be in a stable condition in Kilmarnock's Crosshouse Hospital.
Toni's father, James Dixon, told the Daily Record newspaper: "These dogs shouldn't be with families or around kids. They are killing machines."
The newspaper also said the attack left Toni needing more than 100 stitches.
Speaking about the attack, Mr Dixon said: "If the dog had bit her an inch or so lower it would have severed an artery in her neck and I really think she would be dead."
A spokesman for Strathclyde Police said last night: "At 4.40pm on 31 August, a 10-year-old female sustained facial injuries when she was bitten by a Japanese Akita dog in the Kilmarnock area."
This is the second attack on a child in Scotland by dogs this week.
On Sunday, 10-year-old Rhianna Kidd was attacked while riding her bike in a Dundee street.
She underwent emergency surgery and was treated for a fractured jaw and had plastic surgery. The dogs were later destroyed.
Tayside Police said a 33-year-old woman had been charged under the Dangerous Dogs Act 1991 for failing to keep the animals under control.