Community punishment criticised as 'holiday camp'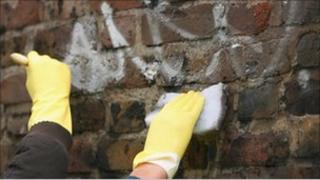 The use of community service has been criticised after criminals were filmed drinking tea and smoking illegal drugs.
The government's victims' commissioner said it was a "holiday camp for offenders" which had to be changed.
The undercover footage from three areas in England followed an investigation by ITV1's Tonight programme.
It comes as Justice Secretary Kenneth Clarke considers plans to give more offenders community punishments rather than short prison sentences.
The victims' commissioner, Louise Casey, who helped develop the Community Payback scheme, said the current set-up was "disgraceful" and called for a revolution in the way it was implemented.
Minister for Policing and Criminal Justice Nick Herbert acknowledged the examples shown in the programme were "totally unacceptable" and said the government would set out proposals to "reform the system" and ensure "robust supervision, due punishment and meaningful work".
The footage was filmed over six weeks at projects in Manchester, Nottingham and Derbyshire.
In Derbyshire, a repeat offender said the schemes did not deter him from crime.
"It's like basically getting up in the morning, you go into something that you're getting punished for but you're not actually doing anything that's punishing you," he told the programme.
"It don't stop you from reoffending at all, I don't think. There's people on there who are still going out and committing burglaries and doing whatever."
In Manchester, one offender was shown smoking cannabis, while another said he got the drug delivered to him at the site.
Others talked about the hours spent "sat on the bench, having cups of tea and reading the papers" while serving their sentences.
'Full investigation'
In Nottingham, undercover filming at the site and elsewhere in the city showed many offenders standing around, smoking or watching television - and carrying out much less work than claimed.
Ms Casey told ITV1's Tonight programme: "The public want people punished - of course, we then want them rehabilitated - but we want them punished and some of those people on community payback have committed quite serious offences, some of them including violent offences, yet they're on a kind of a version of a holiday camp.
"The punishment as it is at the moment isn't punishment," she said.
A Greater Manchester Probation Trust spokesman said it took the allegations "very seriously".
"We have already taken appropriate action, commissioning a full investigation and establishing an immediate action plan," he said.
He added that, in the vast majority of cases, "work is properly carried out and is beneficial to the communities we serve".
A Nottinghamshire Probation Trust spokeswoman said the "unacceptable" examples "appear to be isolated incidents and do not reflect the overall high standards of rigorous supervision and challenging, purposeful work carried out by offenders".
"Where standards are proven to have not been properly applied, prompt appropriate action will be taken and disciplinary procedures will be followed," she said.
A Derbyshire Probation Trust spokesman said it was reviewing all the allegations and added: "Where it is found that standards have not been properly applied, appropriate action will be taken against any staff concerned, and against offenders who have flouted the conditions of their order."
Mr Herbert said the government expected "necessary action to be taken" by the probation trusts as they carry out disciplinary action against staff.
"The scenes in this film where offenders effectively stick two fingers up to the system made me extremely angry.
"There can be no excuses for it."
Community Dis-service is on ITV1 at 1930 BST on Thursday