Concerns increase over extradition laws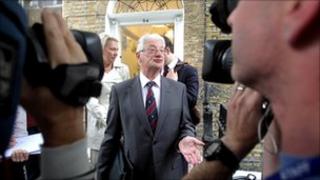 High-profile requests from the US have brought Britain's extradition laws into the news. But Britain actually sends more people for trial to Poland than anywhere else and the architect of the law, David Blunkett, admits there have been unintended consequences.
"I stole chocolate," says Gregg, hanging his head. "Twenty, maybe 25 bars of chocolate."
Gregg, a Polish builder and decorator who now lives in Merseyside, wears a look of regret. He is being extradited from Britain to Poland to face charges, in what critics say is a flawed aspect of Britain's Extradition Act 2003.
Five years ago, on his way to a party in his home town in western Poland, Gregg shoplifted about £70 worth of Milka bars.
Gregg, who has since built a new life with his fiancee in the UK and runs his own business, had forgotten about the incident until last month, when British police in his adopted homeland came to arrest him and send him home.
Trivial cases like this are par for the course in England's main extradition court, the City of London Magistrates' Court in London - where about 40% of European cases heard come from Poland, with other central and eastern European countries not far behind.
These countries have much stricter rules about prosecuting minor crimes, and under the European Arrest Warrant system the UK has committed to chasing down anyone who is requested.
The time and money spent on trivial cases adds to the criticism around Britain's Extradition Act - which the government now plans to review.
Blunkett's 'regret'
Former Home Secretary David Blunkett was one of the architects of the law - but told The Report that with the benefit of hindsight, he may have given too much away.
"I'm being honest about looking at something seven years on and saying it wasn't perfect," he said. "Of course we can look back and say we could have done better."
Much of the controversy comes from those wanted by America - from alleged terrorist webmaster Babar Ahmed to the case of Christopher Tappin, a Kent businessman wanted for allegedly breaking an American trade embargo to Iran, whose extradition hearing opens on Thursday.
The law was designed after the 11 September attacks in 2001, to help streamline international justice.
"We were trying to make sure that where we accepted there was a fair and reliable judicial system, we would accept and acknowledge it as we do our own," explained Mr Blunkett.
But it has not always worked. Those accused of terrorism by the US, like Babar Ahmed, are in some cases still languishing in British prisons, because they continually appeal against their extradition on human rights grounds.
"In many cases for which this process was intended, the practicalities are such and the reviews and judicial stages are such that they are still here," said Mr Blunkett.
In fact, many of those accused by US courts and sought for extradition from Britain have long argued that they should be tried by British courts instead.
Under the Extradition Act 2003, rather than the government deciding on each case, the courts have to process cases quickly.
With some of Britain's allies - like the USA and European Union - there is no longer a requirement for a basic "prima facie" test of the evidence against suspects.
David Blunkett did not accept that there was actual injustice caused but conceded there had been some mistakes.
"In theoretical terms, I think there is still a debate - and I'm prepared to concede this - about whether we gave away too much," he said.
Heavy caseload
On a recent day in the City of Westminster Magistrates' Court, about half the cases were Polish migrants requested for trial at home. Poland issues 5,000 European Arrest Warrants a year, about 50 times more than the UK does.
But the Polish Ministry of Justice defends its policy of "strict legality", and points out that it helps pay for this with a regular Polish plane being sent to Britain to transport people.
Outside the court I spoke to Barbara, Monica, and Anna - three Polish interpreters whom judges rely on to help process these cases.
"We do have very serious ones, like attempted murder, but I would say the majority are not so serious," they said.
They have interpreted for cases like theft of a jacket from a party while under the influence of alcohol, cycling under the influence of alcohol, and possession of a small amount of cannabis.
The kinds of cases being sent to Poland, or the US, are often at very different ends of the spectrum.
But the issue is the same - the new system is so streamlined that there is no real testing or screening out of evidence by our courts.
Polish interpreter Barbara says that in most cases, the courts do not find grounds to stop extradition. "Their hands are tied by the Extradition Act, which was specifically designed that way," she says.