Review urged over BA plane runway error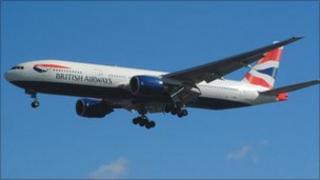 British Airways has been told to review its airfield inspections process after a plane took off from St Kitts on a runway that was too short.
The Boeing 777 with 87 passengers left the Caribbean island from the wrong point on the runway for a plane of its type, an accident report said.
The Air Accidents Investigation Branch said the BA crew mistook one taxiway for another in the "serious incident".
The plane took off safely on its flight to Antigua on 26 September last year.
'Tighten standards'
Just after the aircraft became airborne, BA's 39-year-old co-pilot saw grass at the end of the runway under the plane's nose, the report said.
"At this time he realised that something was not right and realised that, although the aircraft was airborne, the end of the runway was closer than normal," the AAIB said.
It said the 44-year-old captain had said it was normal practice to discuss taxi routes at large, busy and complex airports.
But as St Kitts was a small airport, he would have considered it "odd" if specific reference was made on how to taxi to the holding point, the report added.
The plane ended up at an intersection of a runway which was not an authorised point for Boeing 777s to take off.
The report identified a number of failings, which included:
Airport authorities not installing any taxiway or holding point signs at St Kitts
The crew not discussing their taxi routing
The crew misidentifying taxiway Bravo for taxiway Alpha
The trainee air traffic control officer not informing the flight crew they were at intersection Bravo
BA not conducting a physical survey of the airfield; and
It was the first time the captain and co-pilot had operated to or from St Kitts
The AAIB recommended BA review the process by which inspections were made at all new destination airfields and tighten up standards at St Kitts.
The plane was left with about 1,220m (4,000ft) of take-off room, which was 695m (2,280ft) less than it should have had.
The co-pilot said the shortest runway he had operated a Boeing 777 from was about 2,000m (6,560ft).
BA's airport duty manager and station engineer were both travelling on the plane in row 10, the report said.
The engineer got up to contact the flight crew when he realised the plane was in the wrong intersection, but sat down again in row four because the take-off run was starting, the report added.