Probation chiefs' 'concern' over community sentences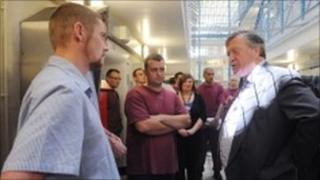 Probation chiefs are concerned over how they will cope with a move away from prison sentences to more community-based punishments, a survey suggests.
It follows Justice Secretary Ken Clarke's call for alternatives to jail to be considered in a "rehabilitation revolution" in England and Wales.
More than four out of five probation chiefs polled by Channel Four News raised concerns over the move.
The survey polled 20 of the 35 Probation Service's chief executives.
They are responsible for managing around 200,000 adult offenders in the community at any one time.
The survey also found three-quarters of the probation chiefs polled thought "neither prisons nor probation have the capacity to keep up with the current levels of offenders entering the system".
None thought their services were being commissioned in the most appropriate way and half described their current capacity to manage offenders in the community as "average" or "poor".
Only three out of 20 probation chiefs said the service had the capacity to cope effectively with a move away from short custodial sentences to more community-based sentences and all 20 expected their budgets to be cut in the next two years.
Steve Collett, vice-chairman of the Probation Chiefs Association, told the programme the survey was a "wake-up call" for the government.
"We have over the last five years been operating within an increasingly complicated, bureaucratic and ever-changing environment and, certainly for the last two years, we've been delivering services against reducing budgets," he said.
"We are very supportive of the new government to increase the use of community sentences, but we also believe that we are running very efficiently probation services and therefore the government needs to find capacity from somewhere within the justice system to support this endeavour of theirs."
'Need for savings'
Last month, Mr Clarke outlined radical prison reforms to "shut the revolving door of crime and reoffending".
Criticising the growth of the prison population in England and Wales, he said there must be other penalties.
But former Conservative Home Secretary Michael Howard said he was "not convinced" by Mr Clarke's suggestion that fewer criminals should be sent to prison.
A Ministry of Justice spokesman said public protection was the main priority for the Probation Service and would not be put at risk through changes.
"The coalition government is looking at how private and voluntary sector providers can get involved in running community sentences - to make them tougher for criminals and better value for the taxpayer," the spokesman said.
"The Probation Service must, as with all other areas of government, make savings. The savings will look to retain frontline services which will ensure the public is protected and reoffending is reduced."