G20 pathologist guilty of misconduct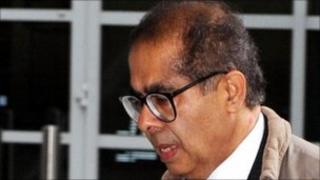 The pathologist involved in a row over the death of a man at the G20 protests has been found guilty of misconduct by the General Medical Council.
A panel had been considering three unrelated post-mortem examinations carried out by Dr Freddy Patel between 2002 and 2005. It said his fitness to practise was impaired.
The GMC will consider sanctions later on Tuesday and on Wednesday.
Dr Patel examined Ian Tomlinson, who died during protests in London in 2009.
'Deficient performance'
The panel had already concluded the 63-year-old was "irresponsible" and failed to meet professional standards during examinations of the bodies of a five-year-old girl in 2002, a four-week-old baby in 2003 and a woman in 2005.
It ruled he acted in a way liable to bring the profession into disrepute when he changed the woman's cause of death.
In an examination in January, he decided she had died from a blood clot in the coronary arteries.
But a month later he changed that to a brain haemorrhage after a second post-mortem by another pathologist.
He told an inquest into the woman's death he made the changes "to satisfy the family".
During Tuesday's hearing, panel chairman Richard Davies said: "The panel is not satisfied that there is no risk of the relevant conduct being repeated."
He said pathologists "must not set aside their professional judgement for any of the parties involved during or after a post-mortem examination for reasons of expediency or anything else".
Dr Patel's failure to note the weights of individual organs examined also showed deficient professional performance, he added.
The pathologist was also found guilty of misconduct in a post-mortem examination on a four-week-old baby in August 2003.
His failure to obtain full skeletal X-rays prior to the examination, and the fact that he carried it out before radiologists began work, fell short of professional standards, the panel ruled.
Mr Davies said: "You deliberately ignored the guidelines so as to carry out the post-mortem examination simply at a time of your own convenience, and very shortly before radiographers would have been readily available."
'No charges'
An earlier hearing found Dr Patel was "irresponsible" when he failed to identify marks on the body of a five-year-old girl which suggested she had been violently attacked prior to her death in 2002.
Mr Davies said in this case Dr Patel's conduct amounted to deficient professional performance but not misconduct.
Dr Patel carried out the first post-mortem examination of newspaper seller Ian Tomlinson, who died at the G20 protests in London on 1 April 2009.
He concluded that Mr Tomlinson died of natural causes linked to coronary artery disease.
But two other pathologists later separately concluded that Mr Tomlinson - who had been pushed by a police officer - died of internal bleeding as a result of blunt force trauma, in combination with cirrhosis of the liver.
The failure of the three pathologists to all agree led to the director of public prosecutions ruling that the policeman in question would not face any charges.