Nick Clegg says Afghanistan mission 'turning a corner'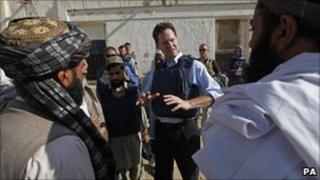 Deputy Prime Minister Nick Clegg has insisted the military campaign in Afghanistan is "turning the corner", during a surprise visit to the country.
But he said he "had no idea exactly how and when we will succeed".
He repeated the promise made by the government that UK combat troops would leave Afghanistan by 2015.
Mr Clegg also praised the "bravery and professionalism" of UK troops and insisted spending cuts would not hit those on the front line.
The deputy prime minister spoke at Camp Bastion base on Tuesday after spending the day and previous night in southern Helmand province.
He travelled to the front-line operating base of Shawqat, in Nad Ali district, and was shown around a school, a clinic and a police station being constructed with British funding.
Mr Clegg's trip was shrouded in secrecy after it emerged that the Taliban had planned to attack Prime Minister David Cameron during a visit in June.
'Laying down arms'
The deputy PM said: "We hear so much bad news... But what I have seen today is a complete transformation of the military effort that I first saw when I visited two years ago.
"[Then] there were arguments about equipment, there were doubts about whether we had sufficient people and resources. There was real concern over whether we had the right strategy.
"Now you've got people laying down their arms and actually wanting to participate in a peaceful life in central Helmand. That is a dramatic, dramatic change.
"You've got other signs, you've got poppy production down by a third last year alone. You've actually exceeded the target of training people for the Afghan army.
"So I think, yes, of course there are risks, we've got no idea exactly how and when we will succeed but are we turning a corner?
"I think we are militarily and if we can now get the politics right, get the training right and the partnership with the Afghan Police and Army, I think we can succeed."
'Political settlement'
Mr Clegg again insisted that all UK combat troops would leave Afghanistan by 2015, saying the government had "put a full stop at the end of our engagement".
He said decisions were still being made on the future of defence spending, but added: "We are not going to suddenly withdraw support from one day to the next to our brave troops who are out here on the front line in Afghanistan."
After having breakfast with UK personnel, Mr Clegg told them politicians now had to show "courage" to try to make real progress, insisting: "Without a political settlement this is not going to end."
But Helmand province Governor Gulab Mangal played down the prospects of meaningful political talks with senior Taliban figures, saying reintegrating such people was currently "not practical in Helmand".