Ibiza drugs raid: 20 Britons arrested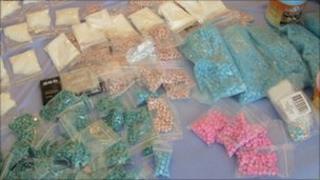 Students are among 20 Britons being held on Ibiza after a large-scale drugs seizure by Spanish and UK police.
The haul includes 4kg (8.8lb) of cocaine, 38,000 ecstasy tablets, 250g (8.8oz) of ketamine, seven pints (4l) of GHB, and some crystal MDMA.
The joint operation was carried out by the Spanish National Guard and the UK's Serious Organised Crime Agency (Soca).
The Britons, from London, Liverpool, Manchester and Newcastle, are being held on the island with five others.
Two Irish nationals, a Czech national, a Slovak and a Spaniard are among the 14 men and 11 women arrested.
'UK-led ring'
Authorities also revealed that almost £46,000 in euros was seized from properties as part of Operation Arrow.
Police believe the UK-led drugs ring had two branches in Ibiza: one to establish contacts, and the other to distribute the drugs amongst the bars and clubs.
They say luxury villas were rented on the island for the ringleaders, along with flats and apartments for the dealers.
A Soca spokesman said: "The ring used young 'public relations' people in nightclubs to distribute drugs and ensure similar prices were charged at each point of sale, depending on the time and place."
He said the illegal substances were smuggled on to the island in cars coming from the UK or in the luggage of British tourists.
One young British woman was allegedly caught carrying 3kg (6.6lb) of cocaine through the airport on 8 August.
Other items seized include a hydraulic tablet press, documents, precision weighing balances and substances used to cut drugs.
The properties searched were in San Antonio de Portmany, Santa Eulalia and San Jose de Sa Talaia.
The Foreign and Commonwealth Office said it was aware of the arrests and was offering consular assistance.