MoD denies UK and France could share aircraft carriers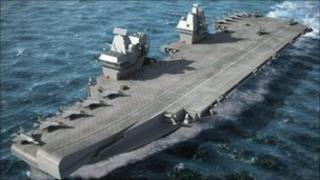 The Ministry of Defence has confirmed that Defence Secretary Liam Fox is to meet his French counterpart to discuss further defence co-operation.
But a senior MoD source has told the BBC there are no plans for the two countries to share aircraft carriers.
He described the meeting as a regular contact between ministers and said no announcements were likely to emerge.
The denial follows reports in the Times newspaper that UK and French ships could work together to cut costs.
The meeting is scheduled to take place in Paris on Friday.
'Speculation'
The Times quoted a Whitehall source as saying: "Liam has made it clear that we want more co-operation as we have to face up to the world we are living in.
"The advantage is that if we are going to have one carrier, then at least we can project our power on the sea even if we go down to a single carrier."
The paper claimed that under the arrangement, two British and one French flagship would work together to defend the interests of both countries, with one always on duty at sea.
It said special protocols would be put in place in case a uniquely British interest, such as the Falkland Islands, were threatened while the French were in charge.
The Ministry of Defence described the report in The Times as "speculation" which was "entirely unfounded".
A Strategic Defence and Security Review is currently under way and is due to report back in the autumn.
Two aircraft carriers are currently being constructed for the Royal Navy at an estimated cost of £5.2bn.
They are due to enter service in 2015, and will be the biggest and most powerful warships ever designed and built in the UK.