UK papers discuss Mandelson's Labour leadership remarks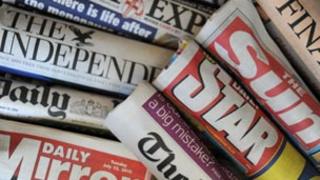 Lord Mandelson's intervention in the Labour leadership election has transformed the contest, according to several of Tuesday's newspapers.
"Like a pantomime villain", the former business secretary has "upstaged" all the candidates, says the Daily Express.
The Daily Mail thinks he has set off a "civil war" by warning that electing Ed Miliband as leader would harm Labour.
The Times cartoon shows Lord Mandelson stealing the wheels from the "Ed Miliband-wagon".
'Hard to trust'
The Guardian's main story is that the world's most high-profile climate change sceptic, Bjorn Lomborg, is set to make a complete U-turn.
It says he will declare that global warming is "undoubtedly one of the chief concerns facing the world today".
But the Daily Telegraph discusses the controversy over exaggerated claims by the UN's climate change panel.
It thinks "it becomes difficult to keep an open mind on such issues" if the word of a key body "cannot be trusted".
'Counterblast'
Several papers discuss the planned publication of Tony Blair's memoirs on Wednesday.
The Sun says it understands Mr Blair's book will make a "vicious attack" on his successor.
"He won three elections, but he blames Gordon Brown for Labour losing power," the paper claims.
According to the Daily Mail, Mr Brown's friends have warned that they "won't stand idly by and see his achievements rubbished", and are preparing a "counterblast".
'Honest brokers'
There is much concern about the future of cricket following allegations of spot-fixing in matches.
"Cricket is in a fix and has been for years," writes Peter Roebuck, in the Independent, arguing the game needs "tough action and honest brokers".
The Daily Mirror's Oliver Holt says the betting industry is "the real culprit".
"Looking disgusted is fine", he writes, but if English cricket is to react properly to this crisis it must look carefully at the influence of gambling on the sport.