Private toll roads not the answer - M6 motorway report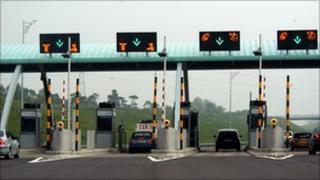 Private toll roads are not a cost-effective answer to traffic problems, the government has been warned.
A report by the Campaign for Better Transport said the UK's only private motorway toll, the M6 Toll, had not significantly cut congestion.
Its owners lose tens of millions of pounds a year on the road, near Birmingham, campaigners added.
Midland Expressway, which runs the M6 Toll, was approached by the BBC but would not comment on the report.
The Campaign for Better Transport concluded that the government should not see privately financed schemes as a way out of economic problems.
Road charge
The group argued that journey times on the M6 were only slightly better than before the toll opened nearly seven years ago, and drivers were put off using the road by the charge of £5 per car.
It estimated the toll road's operator was losing more than £25m a year, discouraging potential investors.
Campaigners used documents from the Highways Agency, the Transport Select Committee and Midland Expressway to compile the report.
Not only had the toll road failed to improve transport in the West Midlands, it concluded, but drivers who paid the toll were not receiving value for money.
In addition it said the Highways Agency was planning to spend £500m on congestion relief that the M6 Toll was supposed to have provided.
David Bayliss, from the RAC Foundation, said the number of toll roads should be increased.
"We already pay a great deal in taxes, and a road pricing scheme would have to be a replacement for the existing tax regime, rather than put on top of it," he said.
"But it would control congestion, it would tell us where it's worth expanding the road system, and what's more it would provide the funds to develop the road system and relieve the congestion even further."
The M6 Toll is a 27-mile privately-financed motorway that runs around the north west of Birmingham, between junctions 3a and 12 of the M6.
It opened in December 2003 and was intended to relieve congestion on the busiest section of the M6 by providing an alternative route.
BBC transport correspondent Richard Scott says that with the public finances under pressure and road building under threat, the government is looking at how to improve the transport network in the most cost-effective way.