US general criticises British strategy in Helmand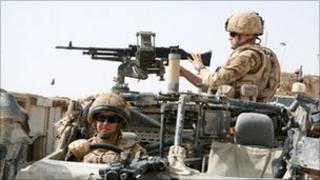 A senior US general has criticised the strategy of British forces when they were first deployed in Afghanistan's Helmand province in 2006.
Lt Gen Benjamin Freakley told the Times that British commanders failed to put enough pressure on the Taliban.
Gen Freakley, who was the most senior US commander in southern Afghanistan, said he had been "scathing" in meetings with his British counterparts.
The Ministry of Defence said it had adapted its approach in Helmand.
'Disastrous'
Gen Freakley, who served in Afghanistan from 2006 to 2007, told the Times newspaper that when he recommended that British troops take more offensive action in Helmand, he was "told by the British that they didn't believe their forces were ready".
He added that without putting pressure on the Taliban - while simultaneously carrying out reconstruction programmes - the British were "just poking [their] finger at the problem".
Gen Freakley also criticised the British tactic of sending small number of soldiers to defend provincial centres in outlying regions of Helmand, such as Musa Qala and Sangin.
He said "that tactic proved disastrous" because it encouraged attacks by the Taliban and resulted in heavy losses among British troops.
Gen Freakley said British forces should have instead stayed mobile.
But despite his criticism of British tactics, he said he had "the greatest respect" for the British troops on the ground at the time.
Britain first deployed troops in significant numbers to Helmand in the early part of 2006, with more than 3,000 members of 16 Air Assault Brigade the first to be deployed.
The Ministry of Defence said it adapted its approach in Helmand due to developments on the ground, and that back in 2006, troop numbers were quickly increased by more than a third.
Gen Freakley is now commander of US Accessions Command at Fort Knox in Kentucky, which deals with army recruitment.