Think tank calls for new home cash incentives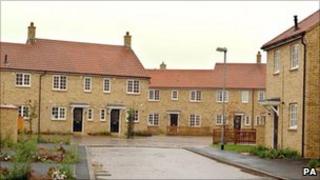 Big cash incentives should be offered to people living in areas of England where developers want to build new homes, a think tank suggests.
Instead of the current system where council planners decide whether to back new projects, the Policy Exchange says local residents should be balloted.
It says such changes would lead to more young people being able to afford to buy their own homes instead of renting.
The think tank says this would in turn cut social housing waiting lists.
The centre-right Policy Exchange complains that currently it is far too easy for a vocal minority of residents to block new developments by lobbying council planning departments.
But if decisions were put to the vote in affected communities, the think-tank believes such opposition would be reduced.
Action is desperately needed to reverse the current "housing crisis", according to the Policy Exchange's deputy director and report editor, Natalie Evans.
She says rapidly rising house prices - caused by supply not being able to keep up with demand - are bad for the economy to the tune of £20bn a year.
Ms Evans thinks such increases exclude more and more working families from owning their homes.
Housing benefits
In 1995 the average home in Britain cost £72,659 in today's money, but now the typical property sells for £160,000.
The report noted that rising prices have in turn forced rents up, costing taxpayers an extra £8bn in housing benefit since 1997.
Rising private sector rents mean more people have to rely on social housing typically provided by their local council or housing association. This forces more into claiming housing benefit.
By introducing policies to prevent rocketing house prices, Ms Evans estimates all working families should be able to afford to rent or buy their own home by 2030.
This would further be helped, she said, by the government quadrupling to 100,000 the number of new social homes built each year across England.
The Policy Exchange is keen to reduce the number of people in social housing who, it says, cost the taxpayer £7bn a year in welfare payments and are more likely to be unemployed than homeowners and people who rent privately.
Extra money
Ms Evans said: "We need to get away from the idea that house prices can rise faster than inflation every year without that affecting the ability of people to actually buy.
"Having stable house prices will save everyone money. But for that to happen, we need to make it easier to build houses.
"It should be up to local people how much development is allowed near them, through ballots of those affected by proposed developments.
"The cash incentives will be bigger in areas where housing is more expensive, meaning it is likely that more homes will be built in areas like London and the South East."
Housing minister Grant Shapps said the coalition government welcomed the ongoing debate about the future of housing.
"The single biggest way that we can help is to get more homes built," he said, pointing to the launch of the New Homes Bonus.
Under the scheme, the government will offer councils in England extra money for every newly-built home.
Mr Shapps said it was designed to ensure communities benefited financially when they backed more housing, and in particular affordable homes.