Traveller site planning rules 'to be scrapped'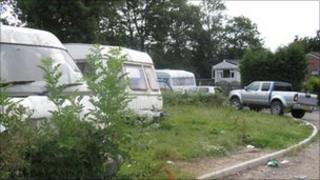 Planning rules which set strict requirements on the provision of land for traveller communities are to be revoked by the coalition government.
The announcement follows complaints from some local authorities that current guidelines force them to develop sites on open countryside.
Communities Secretary Eric Pickles said he also planned to give town halls more powers to tackle unauthorised sites.
Councils will also get cash incentives to build more authorised locations.
This will see the provision of traveller sites included in the government's planned New Homes Bonus scheme, under which local authorities will be paid for houses they allow to be constructed in their area.
Travellers on official sites are also to be given greater protection against eviction, by giving them the same rights and responsibilities as residents of other mobile home parks.
Mr Pickles said: "Unauthorised developments have created tensions between travellers and the settled population.
"We want to redress the balance and put fairness back into communities.
"Like the rest of the population, the majority of travellers are law-abiding citizens and they should have the same chance of having a safe place to live and bring up their children."
The coalition government has already said it wants to increase the powers of local authorities to deal with unauthorised traveller sites.
In May, it scrapped this year's £30m gypsy and traveller programme, which provided grants for new sites.
Legal challenges
The shortage of sites for gypsy and traveller communities has long been a problem for local authorities.
With authorised locations in limited supply, many groups have occupied land illegally - leading to complaints from local homeowners, and legal applications from councils to have them evicted.
To increase the building of new authorised sites, the former Labour government set central targets for local authorities to meet, giving councils in England a combined £150m over five years to help fund the programme.
The coalition government is now removing these target numbers, and instead hopes that offering financial incentives alone will see an increase in the number of authorised locations for travellers and gypsies.