Cricket 'scam' dominates papers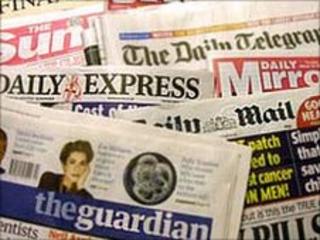 The fall-out from allegations of a cricket betting scam concerning the Test between Pakistan and England is widely reported in Monday's papers.
Cricket is "in crisis", says The Times, while the Sun claims Pakistan "nobbled" the first Test at Trent Bridge in July.
Both the Guardian and Daily Mail front pages feature cricket-related pictures.
The Mail's headline says cricket has been "shamed" while the Guardian says the claims have "engulfed" Pakistan.
'Wonder drug'
People suffering from heart failure may find solace on the front pages of the Daily Mail and the Daily Express.
The Express says the discovery of a "breakthrough pill" will save the lives of thousands of heart patients.
And the Mail declares the discovery is nothing less than a "wonder drug".
The paper says doctors are so impressed by the results of medical trials that they have pledged to start using the drug, ivabradine, as soon as possible.
'Radical plans'
The Independent has a picture of Labour leadership contender Ed Miliband on its front page.
In the newspaper's interview with the younger of the two Miliband brothers, he said New Labour was "haunted by ghosts of past failure".
Meanwhile, the Daily Telegraph reports on what it calls "bank plans to cap risky mortgages".
It says the "radical" Bank of England plans would be an attempt to "prevent a repeat of the credit crisis".
Defence issues
Despite many back pages being dominated by cricket, the Daily Star is more concerned with football.
"Call him careless Tevez," it says of the Manchester City striker who missed an open goal before the opposition - Sunderland - scored, winning 1-0.
And the Daily Express reports on Fabio Capello's struggle to form a defence ahead of England's first competitive game since the World Cup.
It says he has been forced to recall Matthew Upson and Joleon Lescott.