Man held over Pakistan cricket 'betting scam' bailed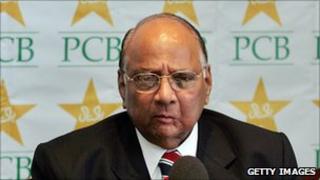 The agent at the centre of the Pakistan cricket betting scam allegations, Mazhar Majeed, has been released without charge on police bail.
He was arrested on suspicion of conspiracy to defraud bookmakers.
Four players have also been questioned, and three of these reportedly had their mobile phones taken away by detectives.
International Cricket Council president Sharad Pawar has ruled out calls for action to be taken against the players until after the police investigation.
The News of the World says it paid Mr Majeed for providing advance details of when three no-balls would be bowled in the Lord's test match against England.
Bowlers Mohammad Amir, Mohammad Asif and Pakistan's captain Salman Butt were said to have had their mobiles taken by the detectives who had been questioning them, along with wicket-keeper Kamran Akmal.
Their team manager, Yawar Saeed, insisted cricket was not "institutionally corrupt" in his country, and the claims were unproven.
'Quite serious'
International Cricket Council president Sharad Pawar was quoted by the AFP news agency as saying that they will not act until they receive reports from the police.
"After that we have to take a viewpoint of the two boards, in this case the Pakistan Cricket Board (PCB) and the England and Wales Cricket Board (ECB).
"If anything is established, it will be viewed very seriously by the two boards and the ICC.
"I am absolutely confident that both boards will never encourage protecting anybody who has done a wrong thing," he said, calling the allegations themselves "quite serious".
But Malcolm Speed - a former chief executive of the ICC - thinks there is already a serious case for Pakistan to be banned from world cricket after further fixing allegations were levelled at several members of the team.
He said there was provision in the ICC's anti-corruption code to suspend a whole nation, and that if if these latest allegations were proven and corruption found to be endemic, then the ICC would have little choice.
"I think that's (suspension) an option. It's serious," Speed told Australian radio station, ABC.
"It looks as though it is endemic that several of the team members are involved and have been for some time. So perhaps they need a rest. It looks a fairly compelling case."
The latest allegations relate to three no-balls delivered by Mr Amir and Mr Asif on Thursday and Friday. A no-ball occurs when a bowler oversteps the line behind which balls should be delivered.
Former England captain Michael Vaughan told BBC Radio 5 live Breakfast: "Any player who is proven guilty ... should be banned for life, because unless you make a drastic decision on people who do this kind of stuff, I think it will carry on going on for ever and ever."
'Tough day'
His successor as skipper, Andrew Strauss, said the allegations had "removed the gloss" from his side's victory which completed a 3-1 series win.
"The mood was rather sombre. Cricket was in the headlines for the worst of reasons. I can't really comment on the specific allegations, but clearly it has been a tough day."
After the match, Pakistan's captain - Mr Butt - told a news conference he and his team-mates had "given 100 percent".
When asked about his own situation, he said: "These are just allegations and anybody can stand out and say anything about you, doesn't make them true."
The police inquiries come after the News of the World claimed that in exchange for £150,000, a middleman gave it details of the three no-balls which players later bowled at the predicted times.
The paper claims Pakistani players were secretly paid to deliberately bowl them in order to allow gambling syndicates to make money from betting on them.
'Bow its head in shame'
Pakistan's Prime Minister Yousef Raza Gilani said the allegations made his country "bow its head in shame" and his sports minister Ijaz Jakhrani promised life bans for any guilty players
A three-man delegation representing the Federal Investigation Agency - Pakistan's highest law enforcement agency - has been sent to London to investigate the claims.
The former Pakistan cricket captain Imran Khan told the BBC News Channel: "If, and remember these are still allegations and we have not yet heard the other side, these are true then it's probably the biggest setback for Pakistan cricket."
A joint statement issued by the ICC, ECB and PCB stressed that no player nor team official had been arrested.
Mr Amir bowled two of the three no-balls which led to the investigation - one on Thursday and one on Friday.
The 18-year-old became the youngest bowler in Test history to take 50 wickets during day two of the second Test at Lord's.
His teammate, Mr Asif, bowled one of the three no-balls in question on Thursday, the first day of the Test at Lord's. The 27-year-old made his Test debut in 2005 and is currently ranked third in the ICC bowling rankings.
Mr Butt was appointed Pakistan's Test captain in July. He made his debut back in 2003 but was in and out of the side for several years until nailing down a regular place in 2007.
Scotland Yard said Mr Majeed, 35, had been bailed to appear before police at a future date.