Papers consider Labour leadership contest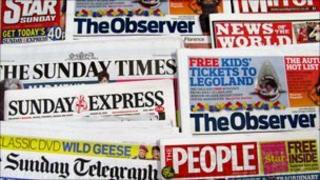 The Labour leadership contest and the battle between the Miliband brothers are widely reported in Sunday's papers.
The brothers tell the Sunday Mirror what they think of each other.
David says Ed has a passion about things that matter, while Ed says of David: "I think he is a person of deep values and beliefs."
They make another joint appearance in the News of the World, while David appears by himself on the front page of the Independent on Sunday.
The picture of the day on many front pages is a close-up profile of prime minister David Cameron touching noses with his new baby daughter, Florence.
The Observer says it is "an image that will melt the hearts of even the prime minister's fiercest political enemies".
The News of the World's undercover investigation into an alleged cricket betting scam fills several pages.
The story about Pakistan and England's Test is, the paper says, "the most sensational sporting scandal ever".
The Mail on Sunday sees "disturbing echoes of the David Kelly affair" in the death of Gareth Williams, the code breaker whose body was found in a bag.
The paper says there has been a "steady, corrosive drip of misinformation" and "lurid allegations" about Mr Williams.
And the Sunday Express reports on last minute foreign holiday deals.
It says tour operators are offering cut-price deals as they battle to avoid going out of business.
The Sunday Times reports that ministers plan to let local councils write their own rules on how homes are allocated.
The paper says it will mean councils will be allowed to put local people ahead of immigrants in the queue for social housing.
An image of 69-year-old Cliff Richard striding through waves for a calendar can be found in the News of the World.
A music "insider" tells the paper most of those who mocked his clean lifestyle "are now either bald and fat or dead".